Cellist Steven Isserlis discusses his trio of lockdown projects: a new recording of British cello music, a companion to the Bach Cello Suites and his new performing edition of Dvořák's Cello Concerto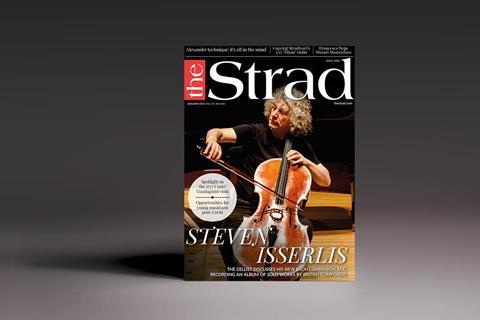 Steven Isserlis: The UK-based cellist talks to Charlotte Smith about his myriad lockdown projects, ranging from a disc of British cello music to a book on the Bach Suites
Bach Second Cello Suite - Prelude: How should the five bars at the end of the movement be played by cellists? Mats Lidström examines the different sources and editions to find an answer
1773 'Cozio' Guadagnini Viola: Alberto Giordano examines an instrument from the start of the maker's Turin period, while Barthelemy Garnier looks at the interior of the instrument
Alexander Technique: Violinist Alun Thomas shares three case studies to explain how going down different 'pathways' of the alternative therapy can help all kinds of string players
Session Report: Alexander Gilman, artistic director of the LGT Young Soloists, tells Toby Deller about its new recording of Philip Glass's Symphony no.14 'Liechtenstein'
Copying the 'Titian': If Stradivari had used different wood for his 1715 masterpiece, what difference would it make to its sound? Jesús Alejandro Torres reports on an innovative study
Covid-19 and Young Musicians: Charlotte Gardner speaks to the heads of various young artist schemes and record labels to find out how they've adapted to the needs of players in the past 18 months
In our regular sections:
Violinist Francesca Dego guides us through the final movement of Mozart's Violin Concerto no.4 in this month's Masterclass, while Hsin-Yun Huang gives tips on playing the viola with small hands in Technique. This issue's Sentimental Work,chosen by cellist Guy Johnston is Walton's Cello Concerto, while New Zealand violinist Wilma Smith shares her memories and opinions in Life Lessons. This month's Opinion features Jacqueline Vanasse on how teaching a student with Down's syndrome can give a new perspective.
Stefan Krattenmacher takes an In Focus look at a c.1815 Thomas Dodd double bass and My Space features German luthier Maria Sandner. Sebastian Ribes and Marianne Jost present their method for making purfling in Trade Secrets, while Andreas Hudelmayer and Andreas Hampel conclude their two-part investigation into the use of UV light in Making Matters.
We also bring you news of the latest products and auctions, plus our regular analysis and opinion columns, and comprehensive reviews of concerts, CDs and books. Simply go to the current issue to explore the full content listing.
Plus, in your 160-page January 2022 edition with FREE String Courses supplement:
View extra photos of this month's featured instrument, the 1773 'Cozio' Guadagnini viola, with all-round images of the scroll
More from the October auctions in London and Berlin, including instruments by Poggi, Scarampella, Vuillaume, Gagliano and Richard Tobin
Read all about the LGT Soloists' latest Philip Glass recording in Session Report, while listening along to clips from the album
More photos from this month's featured concerts, including Antoine Tamestit, Pekka Kuusisto, the London Philharmonic and the Pavel Haas Quartet
Picture story: how the musicians of the Incheon Art Center in South Korea performed 'The [uncertain] Four Seasons' to highlight climate change
And as regular clockwork, clips from the three recordings designated with that coveted appellation 'The Strad Recommends'
The digital magazine and print edition are on sale now, or subscribe to access the entire magazine online here.