Our December issue features an in-depth look at the Venetian double bass, with examples from the city-state's finest makers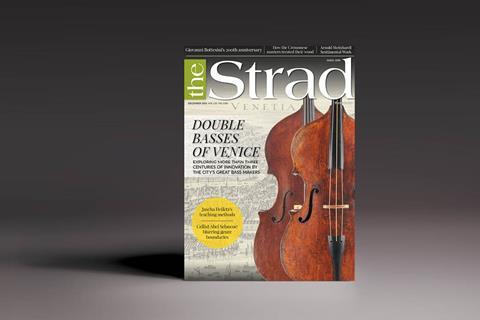 The Venetian Double Bass: The north Italian city-state produced some of the country's finest instruments. Thomas Martin, George Martin and Martin Lawrence examine them in detail
Bottesini's 200th Anniversary: Stephen Street celebrates the career of possibly the most influential double bassist in history, regarded in his time as 'the Paganini of the double bass'
Abel Selaocoe: The Manchester-based cellist, composer and vocalist tells Tom Stewart how his genre-defying compositions are informed by his South African heritage
Wood Treatment: Wenjie Cai and Hwan-Ching Tai reveal how the Cremonese masters treated the spruce used in their instruments, possibly based on alchemical principles
Heifetz as teacher: Ayke Agus, the legendary violinist's long-time accompanist and assistant, recalls his demanding style of teaching, in conversation with Enrico Alvares
In our regular sections:
Cellist Wolfgang Emanuel Schmidt guides us through playing Fauré's Élégie, Elgar's Salut d'amour, and Saint-Saëns's The Swan in this month's Masterclass, while jazz violinist Casey Driessen explains how to alternate chops with melody notes in Technique. This issue's Sentimental Work,chosen by former leader of the Guarneri Quartet Arnold Steinhardt is Schubert's Fantasy in C major, while cellist Amit Peled shares his memories and opinions in Life Lessons. This month's Opinion features Dudok Quartet Amsterdam musicians Judith van Driel and David Faber finding 'game rules' for playing.
David Rattray takes an In Focus look at an 1807 violin by William Ferguson and My Space features double bass maker Jurgen Preyer. Andreas Preuss shows how to make an 'invisible' neck graft in Trade Secrets, while Carlo Chiesa investigates a notorious case of forgery from the 1920s in Making Matters.
We also bring you news of the latest products and auctions, plus our regular analysis and opinion columns, and comprehensive reviews of concerts, CDs and books. Simply go to the current issue to explore the full content listing.
Plus, in your December digital edition:
View more images for our cover story on the double basses of Venice, including more pictures of instruments by Montagnana, Busan, Ongaro, Santagiuliana and Chiericato
Extra photos from Patricia Kopatchinskaja's debut performance as the Berlin Philharmonic's artist-in-residence for the 2021-22 season
Read Wolfgang Emanuel Schmidt's thoughts on performing Elgar's Salut d'amour and Saint-Saëns's The Swan, while listening to clips of him performing them on recordings for Sony
More images from a rare Nicola Benedetti solo performance at London's Barbican in October
Arnhem bass maker Jurgen Preyer gives a guided tour of his workshop in My Space, with pictures from all round the space
View more highlights from the Dubai InClassica International Music Festival, where Steven Isserlis, Mischa Maisky and Gary Hoffman were among the soloists
And of course, clips from the trio of recordings festooned with that ineffable cognomen: 'The Strad Recommends'
The digital magazine and print edition are on sale now, or subscribe to access the entire magazine online here.