The Emerson Quartet reflects on 47 years of music making as it embarks on its farewell tour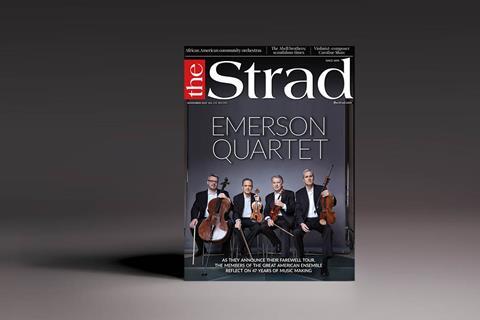 Emerson Quartet: The veteran American foursome will finally disband in the summer of 2023. Bruce Hodges discovers how the group has changed since its formation in 1976
Black Community Orchestras in the US: Violist Eliesha Nelson traces the history of ensembles made up entirely of African American musicians – and discovers a rich and almost unreported story
Caroline Shaw: The violinist, violist and composer tells Toby Deller about the myriad influences on her work, and why oranges have played an important part in her creative output
The Brothers Abell: Despite being almost polar opposites, Americans Arthur and Edward Abell both became associated with fine instrument collections. Clifford Hall tells their stories
Session Report: For the members of the Chiaroscuro Quartet, Mozart's three 'Prussian' quartets are perfect vehicles for their love of spontaneity, as they explain to Toby Deller
François Nicolas Voirin: Matt Wehling completes his study of the 19th-century French bow maker's work, examining changes in the bow stick and pointing out the clues to dating his work
In our regular sections:
In Focus: Jonathan Marolle examines a c.1750 violin by Venice-based luthier Santo Serafin
Trade Secrets: Mark Schnurr demonstrates his method for casting a scroll using foam
My Space: The Huthmaker family of violin and bow makers, based in Suwanee, GA, US
Making Matters: How modern technologies can be integrated into the luthier's arsenal
Masterclass: Tips on playing Schumann's Violin Sonata no.1, with Alexandra Wood
Technique: Improving sound projection with cellist Herre-Jan Stegenga
Life Lessons: The memories and opinions of German cellist Thomas Demenga
Opinion: How teachers can help students deal with feelings of futility and despair
Postcard from California: A report from the 2022 Music in the Vineyards festival
From the Archive: From November 1932
Sentimental Work: Cellist Nicolas Altstaedt on Dvořák's Piano Trio no.4 'Dumky'
We also bring you news of the latest products and auctions, plus our regular analysis and opinion columns, and comprehensive reviews of concerts, recordings and books. Simply go to the latest magazine to explore the full content listing.
Plus, in the November issue digital edition:
Postcard from California: View more photos from the Napa Valley's Music in the Vineyards festival, including photos from the Maxwell Quartet's well-received performance
Session Report: read about the Chiaroscuro Quartet's interpretation of Haydn's 'Prussian' Quartets, while listening to clips from the recently released album
My Space: more from Dixie, Roland and Anna Huthmaker's shop in Suwanee, Georgia, once a hotel frequented by Gone with the Wind's Margaret Mitchell
Reviews: a round-up of string performances from the Edinburgh International Festival and BBC Proms 2022
Making Matters: more from Paul Noulet and Benoit Dupeux's dual investigation into bringing modern technologies into the luthier's workshop
Plus, clips from the trio of recordings leavened with the denomination 'The Strad Recommends'
The digital magazine and print edition are on sale now, or subscribe to access the entire magazine online here.