Laurence Vittes finds that the combination of chamber music and the vineyards of California's Napa Valley makes a festival that's hard to resist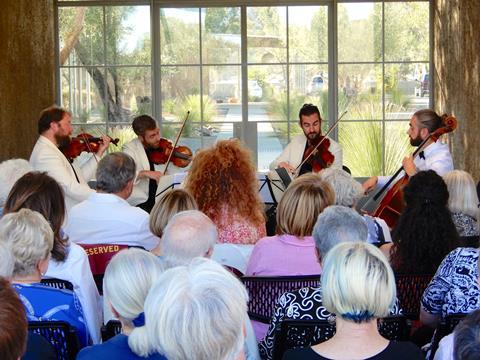 Discover more Featured Stories like this in The Strad Playing Hub
Read more premium content for subscribers here
Music in the Vineyards takes place in the most romantic of settings: nestled in the wine fields of northern California. Since its first season, which comprised just six concerts over three weekends, founding artistic directors Daria Tedeschi Adams and Michael Adams have nurtured and grown their festival to present 41 musicians in 25 concerts, outreach and educational events for its 28th edition. Travelling along the scenic highways of the Napa Valley takes you to the 13 different wineries that host the concerts. This year, the Maxwell, Escher and Telegraph quartets played alongside a flight of established and rising stars. On the weekend I was there, it felt like I was falling in love with chamber music all over again.
I arrived on 10 August to hear the Maxwell Quartet play Haydn's String Quartet in F major op.77 no.2 at the Hess Persson Estates. The Scottish musicians played with the same kind of electric style and roguish sense of dialogue that they display on their Linn recordings: the big strokes, the gorgeous sounds, the infectious energy and, with occasional added flourishes, the cellist and violist having all sorts of fun. Their dynamic sense was great even if the tempo was too fast, though somehow it perfectly suited this piece with its freshness and toe-tapping good humour. The energy and snap of the Haydn seemed linked to an ensuing engaging folk music segment that included two Shetland reels and a switch of first violinists.
After a rather sober performance of Prokofiev's First Quartet, the musicians brought Beethoven's 'Harp' Quartet to astonishing life. Their tempos flowed naturally, they played the harplike pizzicatos in the first movement with absolute precision, took the centre section of the third movement at a true prestissimo, and gave the Allegretto con variazioni such a refreshingly perky and exhilarating treatment that they had to play two more Shetland reels as encores.
The following night's concert was held at the Charles Krug Winery in a wonderful acoustic space, bare and reflective. A trio featuring violinist George Smith from the Maxwell Quartet, violist Rebecca Young from the New York Philharmonic and James Baik, a young Houstonian currently studying with Clive Greensmith at the Colburn School in Los Angeles, played six arrangements from Bach's Three-Part Inventions which were dizzying for their sheer beauty. The five movements of Caroline Shaw's Plan & Elevation for string quartet, with its spatial pizzicatos and reference to Mozart's K387, were apt preludes to a deeply moving performance of Bach's Partita no.3 in E major BWV1006, given by one of the festival's most cherished stars, Kristin Lee.
After the interval, with the audience fortified by complimentary wine tastings, the second half of the concert began with cellist Duncan Strachan of the Maxwell Quartet playing his own evocative, fragmented four-minute Zarabanda, a commission from Robert Irvine in aid of Unicef, which he wrote in 2015 as a contemplation on world peace. He and Lee then played Henning Kraggerud's Variation Suite (1994), which starts out like Saint-Saëns's Havanaise and recalls Britten's Simple Symphony. The concert ended with a sublime performance of Bach's 'Double' Violin Concerto BWV1043 which was not only about style, line, sense of purpose and beauty, but also about the camaraderie that comes from making music together. The dialogue between the Maxwell's Colin Scobie and French-born American violinist Arnaud Sussmann was the perfect result, as these two very different musical spirits soared freely and intertwined with each other while the nine-member orchestra (made up of their festival colleagues) surged around them.
On the weekend I was at the festival it felt like I was falling in love with chamber music all over again
My final night in the valley was at the Hudson House at Beringer Vineyards, a 19th-century white clapboard building containing a curious square room that afforded excellent people-watching opportunities as well as giving everyone practically a ringside seat on proceedings, with provocative acoustics wherever you happened to sit. The concert began with an unforgettable Mozart String Quartet no.14 in G major K387 from Sussmann, Lee, Baik and Aimée McAnulty, violist with this year's Fellowship String Quartet, the Ivalas Quartet. Sussmann is a supreme stylist with an integrity that compels others to follow his soaring imagination; he used occasional light portamento to heartbreaking effect, while McAnulty's nutty tone infused richness into a musical fabric bejewelled with the precision and beauty of Baik's sound.
The evening's pièce de résistance was a blazing performance of the so-called Grande sestetto concertante, a highly imaginative, anonymous setting from c.1808 of Mozart's Sinfonia concertante K364, in which much of the viola's virtuoso writing is allotted to the first cello, a challenge that David Requiro, with his spiderlike left-hand thumb position, totally mastered. The other five musicians were faced with similar challenges, but violinists Lee, Young, Daria Adams, violist Dimitri Murrath and cellist Pedro Sánchez (of the Ivalas Quartet) converted all the work they had demonstrated during earlier open rehearsals into a performance that was powerful, startlingly beautiful at times, almost seamless and even a little crazy.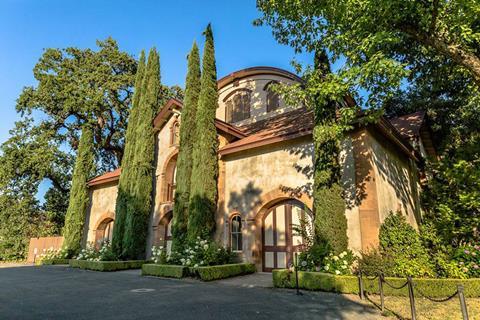 The quality of the playing and the level of enjoyment reflect the vision of the festival's founding artistic directors. Michael Adams explained, 'As orchestral musicians – I was a violist in the Minnesota Orchestra and Daria still plays the violin in the Saint Paul Chamber Orchestra – we both wanted to play more chamber music.
We envisioned concerts in Napa Valley wineries that would be intimate by design, with smaller audiences in close proximity to the musicians. We wanted to avoid under-rehearsing and over-scheduling by requiring the musicians to commit to an eight-day stay, with plenty of time to get to know the music, each other and the beauty of the Napa Valley.'
Originally, there had been four string quartets-in-residence due to appear this year before the Pacifica Quartet dropped out owing to Covid – and they were missed as long-time friends of the festival. The blow was softened by the excellent musical contributions of the Ivalas Quartet as the festival's fifth Fellowship Quartet, a programme designed to nurture an emerging pre-professional graduate ensemble. Recently announced as the new Graduate Resident String Quartet at the Juilliard School, the Ivalas was responsible for the festival's outreach programme, taking live chamber music performances into retirement homes, youth clubs and other venues throughout the Napa Valley. The Ivalas and Baik both told me how transformative being mentored, coached by and then playing with such great professionals had been.
Apart from wine tastings and country walks, a more unusual offering this year was a Not-So-Silent Cinema evening a few days before the end of the festival at which the Telegraph Quartet, flautist Tara Helen O'Connor and pianist Stephen Prutsman played Prutsman's scores for three silent classics. Michael Adams told me that it had surpassed all their expectations for audience size and enthusiasm. 'Another one is in the works for next year,' he said.
The next season and its resident quartets will be announced in February 2023. Seating will be limited as usual. I, for one, will be getting my orders in early.