The Dover Quartet on recording a new Beethoven cycle and inspiring the next generation of chamber musicians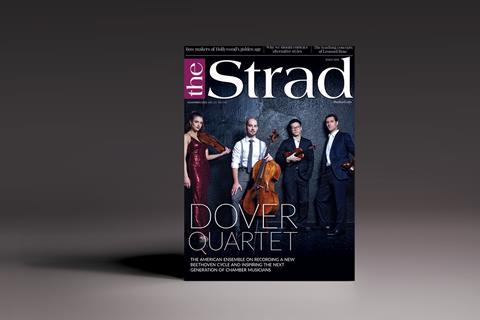 DOVER QUARTET: Charlotte Smith speaks to the American-based foursome about their new Beethoven cycle and residency at the Curtis Institute of Music in Philadelphia
TEACHING DIFFERENT STYLES: Julie Lyonn Lieberman explains the benefits of studying alternative styles from world cultures, from Romani and klezmer to Galician and Karnatak
CARLO BISIACH'S US CONNECTION: The Italian maker had an eight-year correspondence with his US representative, Leo D. Larsson. Gennady Filimonov outlines what the letters reveal
SESSION REPORT: Tom Stewart speaks to Frank Peter Zimmermann about his new recording of Martinů violin concertos, with the Bamberg Symphony under Jakub Hrůša
LEONARD ROSE: The American cellist was a master of the bow arm, which proved essential for his Juilliard students – some of whom recall their experiences to Oskar Falta
HOLLYWOOD BOW MAKERS: Some of America's best archetiers gravitated to Los Angeles during cinema's golden age. Raphael Gold tells their stories and examines some of their bows
In our regular sections:
In the issue's Masterclass violinist Hagai Shaham discusses Brahms's Violin Sonata no.3 op.108; in Technique cellist Daniel Levitov talks about bowing expressively; British cellist Guy Johnston shares his journey into teaching in Life Lessons; plus in Sentimental Work cellist Amanda Forsyth selects Richard Strauss's tone poem Don Quixote.
We inspect a violin by American luthier Arthur James Maskrey in In Focus; in Trade Secrets Davide Sora shares his method of removing the mould after gluing in the linings; My Space looks behind the scenes in the travelling workshop bus of Damián Stoppani; and in Making Matters David Burgess explains his experiments to alter the downforce on the bridge.
We also bring you news of the latest products and auctions, plus our regular analysis and opinion columns, and comprehensive reviews of concerts, CDs and books. Simply go to the current issue to explore the full content listing.
Plus, in your digital edition:
The members of the Dover Quartet give the lowdown on their Beethoven recording cycle, along with audio from the first release in the series
View extra photos of Carlo Bisiach and his family in our article on his dealings in America, as well as all-round views of a Bisiach violin from the period (1938)
Read Frank Peter Zimmermann's thoughts on Martinů and Bartók, accompanied by clips of both from his latest CD
More views of this month's In Focus instrument, a violin by the little-known American maker Arthur James Maskrey
Explore luthier Damián Stoppani's unusual travelling workshop, which he's built into a 1970s bus
Andrew Mellor reports from the Pärnu Music Festival, with extra photos
And, as ever, clips from the three recordings honoured with the title 'The Strad Recommends'
The digital magazine and print edition are on sale now, or subscribe to access the entire magazine online here.