American violinist Esther Yoo on competitions, collaborations and the importance of maintaining a positive outlook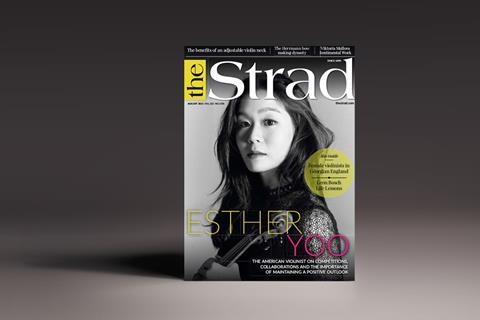 Esther Yoo: A sunny disposition: The American violinist has maintained her positive outlook on life throughout the past year. She talks to Amanda Holloway about trios, tours and Tchaikovsky
Neck Setting: The join between and instrument's neck and body is a vital part of its anatomy. Joseph Curtin shows how the neckset has been modified over the past 300 years
Bach's Solo Violin Partitas: Juilliard professor Lewis Kaplan completes his two-part look at the complete Solo Sonatas and Partitas by examining the composer's use of dance forms
Hermann Bow Making Dynasty: Closely linked to the Knopfs, the family enjoyed particular success in the 19th century. Gennady Filimonov traces their history though letters and documents
Session Report: Violinist Karen Gomyo tells Rita Fernandes how her new recording of The Four Seasons of Buenos Aires and other works by Astor Piazzolla came into being
Female Violinists in 18th-Century England: An unnamed portrait at a 2016 auction led Kevin MacDonald on a journey into Georgian society, and the few women who sustained careers as string players
Recording Arching Profiles: How can luthiers without access to CT-scanning devices make accurate arching templates? Charline Dequincey details her method involving a dental compound
In our regular sections:
Antoine Tamestit completes his study of the Brahms Sonata op.120 no.1 with a look at the third and fourth movements in this month's Masterclass, while cellist Timothy Eddy gives tips on how to put expression into a performance in Technique. This issue's Sentimental Work, chosen by violinist Viktoria Mullova, is Sibelius's Violin Concerto, while South African double bassist Leon Bosch shares his memories and opinions in Life Lessons.
René Zaal takes an In Focus look at the only known double bass made by Girolamo Amati II and My Space features Basel-based luthier Gertrud Reuter. Bowmaker Matt Wehler shares hows to make a martelé bow button in Trade Secrets, while Steve Sirr and John R. Waddle use CT scans to examine the internal air volume of 20 Cremonese violins in Making Matters.
We also bring you news of the latest products and auctions, plus our regular analysis and opinion columns, and comprehensive reviews of concerts, CDs and books. Simply go to the current issue to explore the full content listing.
Plus, in your digital edition:
Extra photos of cover star Esther Yoo, including her performances with conductors Vladimir Ashkenazy and Esa-Pekka Salonen. Plus, hear tracks from her recording of the Tchaikovsky Violin Concerto with Ashkenazy, and tracks from her recent recording as part of the ZEN Trio.
Read Karen Gomyo's thoughts on recording Piazzolla's Four Seasons of Buenos Aires, with extra photos and audio clips from the sessions
More images from the workshop of Swiss luthier Gertrud Reuter in My Space
A sneak preview of the twelve Stradivari instruments used by Janine Jansen on her latest recording
More photos from the concerts reviewed in this issue, including Rachel Podger, Yevgeny Kutik and the Rautio Piano Trio
And of course, clips from the three albums this month chosen as 'The Strad Recommends'
The digital magazine and print edition are on sale now, or subscribe to access the entire magazine online here.