Our November issue features violinist Chad Hoopes's unconventional path to musical success as well as his passion for teaching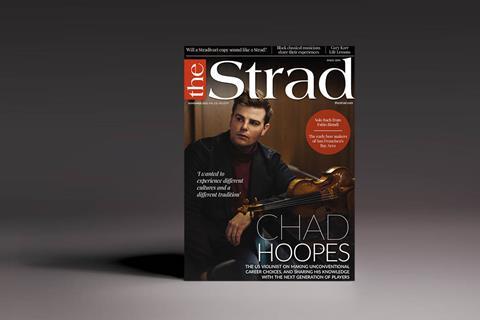 Chad Hoopes: The American violinist brings an eclectic perspective and natural enthusiasm to his performance choices. Toby Deller investigates his path to musical stardom
Black America: Why are black musicians still under-represented in the US classical music world? Pauline Harding asks string players across the country how things could change
Making Copies: Sam Zygmuntowicz examines whether replicas of the 'Titian' and 'Willemotte' Stradivaris, and the 'Plowden' 'del Gesù', will show similar tone properties
Session Report: Fabio Biondi tells Rita Fernandes why his new recording of the Bach Sonatas and Partitas brings a uniquely personal interpretation to the repertoire stalwarts
Bay Area Bow Makers: The early 20th century saw a musical boom in the area around San Francisco - and bow makers reaped the benefit. Raphael Gold examines their history
Scottish Folk Baroque Fusion: Kevin MacDonald explores the trend of combining Scots folk melodies and Italian art music, and how it grew fashionable in 18th-century drawing rooms
In our regular sections:
Violist Richard O'Neill of the Takács Quartet takes us through the first and third movements of Brahms's String Quartet no.3 in this month's Masterclass, while cellist Denis Severin gives hints and tips for practising on open strings in Technique. This issue's Sentimental Work,chosen by cellist Jeffrey Solow, is Brahms's Symphony no.1, while double bassist Gary Karr shares his memories and opinions in Life Lessons. This month's Opinion features cellist Julian Lloyd Webber arguing against the standard repertoire choices for auditions
Bruce Babbitt takes an In Focus look at a 1926 violin by John Friedrich and My Space features Miami-based luthier Giancarlo Arcieri. Bow maker Eric Lane shows how to make a cutter for a Parisian-eye ring in Trade Secrets, while Itzel Ávila shares how luthiers can help musicians who have trouble playing 5th in Making Matters.
We also bring you news of the latest products and auctions, plus our regular analysis and opinion columns, and comprehensive reviews of concerts, CDs and books. Simply go to the current issue to explore the full content listing.
Plus, in your November digital edition:
Extra photos showing the best of this year's string soloists at the BBC Proms and Edinburgh International Festival
Hear audio from Fabio Biondi's new recording of the Bach Sonatas and Partitas, including clips from every partita
More from this month's In Focus instrument by US luthier John Friedrich, including exhibition catalogues, brochures and the man himself
Images from this year's Sun Valley Music Festival, subject of this month's Postcard from Idaho
Sam Zygmuntowicz examines the tone quality of Strad and Guarneri, along with his own copies; view more pictures of the replicas
More from the Manchester-based Kaleidoscope Orchestra's recent array of spectacular post-lockdown concerts
And of course, clips from the three recordings blessed with that prized appellation 'The Strad Recommends'
The digital magazine and print edition are on sale now, or subscribe to access the entire magazine online here.