The Strad talks to the indefatigable German violinist Anne-Sophie Mutter about her plans for the Beethoven 250th anniversary year, and her recent recording collaboration with film composer John Williams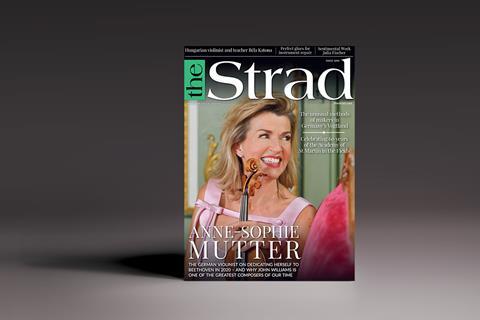 Violinist ANNE-SOPHIE MUTTER talks to Charlotte Smith about her current projects to mark the Beethoven 250th anniversary year, and her recent recording collaboration with film composer John Williams.
With the help of CT scans, Rudolf Hopfner and Monika Lustig lift the lid on three 18th-century violins and a viola from eastern Germany's lutherie heartland: the VOGTLAND REGION.
Klaus Martius examines the three earliest known VOGTLAND REGION INSTRUMENTS, and reveals what they tell us about their mysterious makers, Johann Adam Pöpel and Johann Adam Kurzendörffer.
The ACADEMY OF ST MARTIN IN THE FIELDS celebrates its 60th birthday with a CD box set and international tours. Toby Deller speaks to some of its veteran players.
In SESSION REPORT, French composer Benoît Menut and cellist Patrick Langot discuss their new concept album of songs and chamber works, in conversation with Tom Stewart.
Tully Potter looks back at the career of the Hungarian string teacher BÉLA KATONA, born 100 years ago this month, while in BÉLA KATONA: A PUPIL'S PERSPECTIVE, former student Dona Lee Croft shares her memories.
In our regular sections:
In the issue's Masterclass Augustin Hadelich considers ensemble, character and line in the first movement of Beethoven's Violin Concerto; in Technique cellist Ross Harbaugh presents his exercises for improving musicality; Cellist Jan Vogler remembers his musical life growing up in East Germany in Life Lessons; plus in Sentimental Work violinist Julia Fischer shares her thoughts on Bach's 'Double' Violin Concerto BWV1043. Our Postcard this month comes from The Elmar Oliveira International Violin Competition in Boca Raton.
Roland Baumgartner inspects an 1804 viola by Regensburg luthier Joseph Fischer in In Focus; Trade Secrets presents luthier Thilde van Norel's clear and efficient method of neck shaping; My Space looks behind the scenes inside German luthier Ekkard Seidl's workshop; and in Making Matters Christian Schabbon presents his research on working with different types of glue.
We also bring you news of the latest competitions, products and auctions, plus our regular analysis and opinion columns, and comprehensive reviews of concerts, CDs and books. Simply go to the current issue to explore the full content listing.
April 2020 also contains The Strad's special free Cremona 2020 supplement.
Plus, in your digital edition:
Read Anne-Sophie Mutter's thoughts on working with John Williams, along with clips from her recent release Across the Stars

Extra photos of instruments from the Vogtland, including examples by Voigt, Reichel and Dörffel – plus the world's largest playable violin

More images from The Cellist, the Royal Ballet production based on the life of Jacqueline du Pré, plus Jacqueline, an opera that premiered in Toronto just two days after the ballet

See more from the Elmar Oliveira International Violin Competition, including photos of the finalists, and of Elmar Oliveira himself

A more detailed look round the workshop of Markneukirchen luthier Ekkard Seidl in My Space

And, as always, audio clips from the three recordings garnered with that illustrious sobriquet 'The Strad Recommends'
NB. The Strad's Cremona 2020 supplement is also available separately as a free download.
The digital magazine and print edition are on sale now, or subscribe to access the entire magazine online here.