The experiment, commissioned by the Vienna Philharmonic, examined the movement of musicians' breath while performing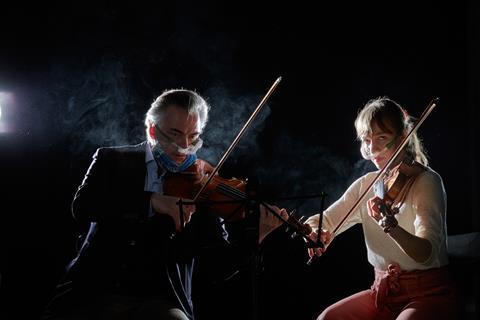 The Vienna Philharmonic Orchestra has presented the results of a study into how far musicians' breath travels while playing instruments. The test apparently showed that, contrary to some theories, there was no added risk of transmitting Covid-19 when performing.
The study, which was carried out in early May, involved members of the orchestra each being fitted with an aerosol device inside their noses, which spayed a fine mist into their lungs. They were then placed in front of a black canvas and very brightly lit from the front, then photographed while playing. This made it possible to view the mist and the extent to which it travelled in the air.

The results showed that for string players there was no difference in how far the breath travelled between playing their instruments or being at rest. The maximum distance the droplets travelled was around 50cm. For brass and woodwind instruments, clouds of air were observed in the area of the mouth, regardless of the breathing technique; no significant amount of mist could be detected around the area of the instruments' openings. The only exception to this was the flute, where droplets were observed up to 80cm from the musician - still within the minimum distance required for social distancing.
Read: Eight Austrian orchestras call for concerts to resume
Read: Berlin study issues recommendations for orchestral distancing
Read: Concerts to resume in Italy on 15 June
The study concluded that there was no increased risk for musicians playing together in an orchestra, provided they observed at least a metre's distance from each other. 'We can then offer the highest quality when we play under reasonably normal circumstances,' said violinist and Vienna Philharmonic chairman Daniel Froschauer, 'in order to function musically and artistically in the usual way, to guarantee the homogeneity and quality of the sound of our orchestra.'
Watch: Daniel Froschauer and Michael Bladerer perform in empty Musikverein
At the time of writing, Austria had had 16.353 recorded cases of Covid-19, with 633 deaths. It is planned for concerts and performances to resume by the end of May, to audiences of up to 100 people. This will be increased to 250 from 1 July, and 500 from 1 August.