This year's inaugural contest, which took place at Lynn Conservatory of Music in Florida, offered a grand prize of $30,000, performance opportunities and public relations support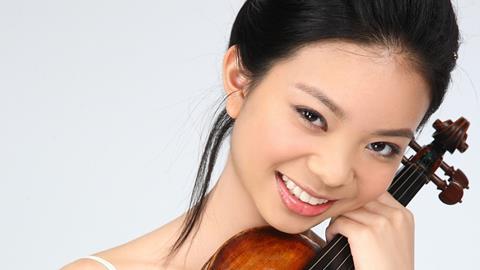 Sirena Huang has been named the winner of the inaugural Elmar Oliveira International Violin Competition (EOIVC), which concluded at Florida's Lynn Conservatory of Music on Sunday.
The 22-year-old American violinist receives a number of awards, including a cash prize of $30,000; a new violin, crafted by Feng Jiang, Jeffrey Phillips, Andrew Ryan and John Young; a silver-mounted bow from Eric Lane; and a Musafia Case donated by Reuning and Son Violins, Inc. She also receives public relations and artist management support, and performances with several orchestras and festivals.
Second prize, worth $15,000, went to 19-year-old Alina Ming Kobialka from the US, while third prize, worth $10,000, was awarded to 25-year-old Hannah Tarley, also from the US. 25-year-old Quanshuai Li from China received an Honorable Mention, with a cash prize of $1,000.
The EOIVC Finals, held on 4 and 5 February at the Wold Performing Arts Center, featured the four finalists in a performance of either the Tchaikovsky or the Sibelius violin concertos with the Lynn Philharmonia conducted by music director Guillermo Figueroa. Huang was the only contestant to select the Tchaikovsky.
Winner of the First Prize Gold Medal of the Sixth International Tchaikovsky Competition for Young Musicians, Huang was awarded third prize at the 2015 Singapore International Violin Competition and third prize at the 2016 Shanghai Isaac Stern International Violin Competition.
Established by 1978 Tchaikovsky Competition Gold Medal-winning violinist Elmar Oliveira and open to violinists aged 16-32, the EOIVC is to be held every three years with the aim of providing 'long-term career development tools' designed to 'cultivate and nurture developing musicians'.
The 2017 judges were Andrés Cárdenes, Charles Castleman, Alexander Gilman, Gudny Gudmundsdottir, Daniel Heifetz (Chairman of the Jury), Ilya Kaler and Vera Tsu Wei-ling.
Read: Elmar Oliveira International Violin Competition names 8 semi-finalists