The announcement follows two days of finals during which six violinists performed a concerto and a virtuosic work with the Shanghai Symphony Orchestra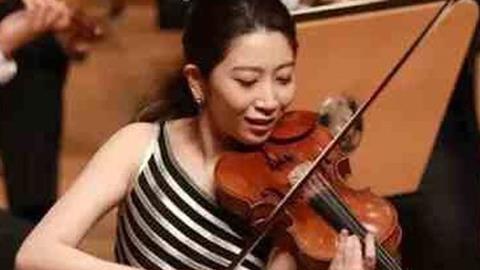 Japanese violinist Mayu Kishima has been named the winner of the inaugural Shanghai Isaac Stern International Violin Competition and takes home the top prize of $100,000. The announcement follows two days of finals in which the six remaining candidates, whittled down from 24 shortlisted violinists aged between 18 and 32, performed a virtuoso work and a concerto with the Shanghai Symphony Orchestra.
Second prize, worth $50,000, goes to 2015 Joseph Joachim Violin Competition winner Sergei Dogadin from Russia, while Singapore International Violin Competition third prize winner Sirena Huang from the US also wins the Shanghai third prize, worth $25,000.
Fourth, fifth and sixth prizes, each worth $5,000, go to Stefan Tarara from Germany, Richard Lin from the United States and Ming Liu from China, respectively. Ji Won Song from South Korea is awarded the prize for best performance of 'The Butterfly Lovers' violin concerto and receives $10,000 from China Pacific Insurance Group.
In addition, two Isaac Stern Awards, each worth $10,000 and given to 'an individual who is deemed to have made an outstanding contribution to our understanding of humanity through the medium of music', go to The Einstein Orchestra from China and Negin Khpalwak from Afghanistan.
This year's Shanghai jury included Zakhar Bron, Boris Kuschnir and Maxim Vengerov, in addition to Chinese violin professors Zhenshan Wang and Lina Yu, and co-chairs – conductor and son of Isaac Stern, David Stern, and Professor Vera Tsu Weiling.
A graduate of the Hochschule für Musik in Cologne, where she studied with Zakhar Bron, 30-year-old Kishima won second prize (with no first prize awarded) in the Junior Division of the 8th Wieniawski International Competition for Young Violinists in 2000, and more recently was awarded first prize in the final round of the International Music Competition Cologne 2011.
Read: Shanghai Isaac Stern International Violin Competition announces 6 finalists
Read: Shanghai Isaac Stern International Violin Competition announces 18 semi-finalists
Read: Shanghai Isaac Stern International Violin Competition names 36 shortlisted candidates
Read: Shanghai Symphony launches $100,000 Isaac Stern Violin Competition