18 violinists have been selected to participate in the semi-finals in Vienna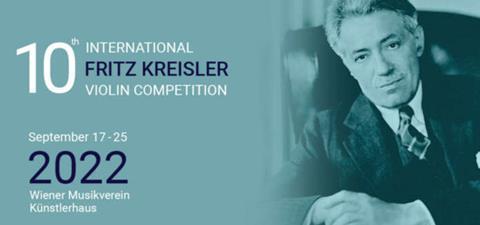 Read more news articles here
The Fritz Kreisler International Violin Competition in Vienna has announced the 18 violinists who will be participating in the semi-finals of the tenth edition of the competition, taking place on 20 to 22 September.
In alphabetical order the participants are:
- Amira Abouzahra (Germany), 16
- Claire Bourg (USA), 27
- Elli Choi (USA), 21
- Wonbeen Chung (South Korea), 24
- Fanny Fheodoroff (Austria), 26
- Luka Ispir (France), 25
- Daniel Kogan (Canada), 29
- Jiaqi Lu (China), 25
- Tianyou Ma (China), 21
- Seina Matsuoka (Japan), 28
- Raphael Nussbaumer (Switzerland) 16
- Lilia Pocitari (Moldova), 24
- Guido Sant'Anna e Silva (Brazil), 17
- Tomotaka Seki (Japan), 23
- Michael Shaham (Israel), 18
- Rino Yoshimoto (Japan), 19
- Galiya Zharova (Russia), 30
- Leonid Zhelezny (Russia), 28
All participants will present a 50-55 minute programme of three selected works for either violin solo or violin and piano. Candidates will choose from a list of six options including a virtuoso piece of the candidate's choice and one of Fritz Kreisler's famous short compositions as an encore.
There have been alterations to the jury during this competition with Rachel Barton Pine (recently featured in The Strad's session report) and Takako Nishizaki withdrawing from the panel and replaced with Ukrainian violinist and conductor Igor Guppman and French violinist Fanny Clamagirand.
The Fritz Kreisler International Violin Competition awards six main prizes with the winner receiving €20,000; several concert engagements including a solo with the Vienna Philharmonic and a tour of Asia; and a CD recording with NAXOS.