Six young violinists will take part in a four-day final with a chance of winning prizes valued at over $350,000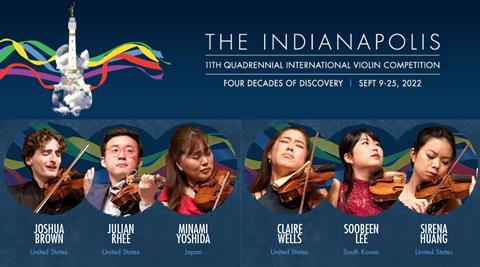 Read more news articles here
The International Violin Competition of Indianapolis (IVCI) has announced the final six participants progressing to the finals beginning on Wednesday 21 September.
In alphabetical order the finalists are:
- Joshua Brown (United States), 22
- Sirena Huang (United States), 28
- SooBeen Lee (South Korea), 21
- Julian Rhee (United States), 22
- Claire Wells (United States), 21
- Minami Yoshida (Japan), 24
The six finalists will now perform in a four-day final where participants will perform with the East Coast Chamber Orchestra and the Indianapolis Symphony Orchestra.
On Wednesday 21 and Thursday 22 the Classical Finals will take place, where all six participants have chosen to perform either Mozart's Violin Concerto no.5 in A major or his Violin Concerto no. 1 in B-flat major and a contrasting work by Fritz Kreisler, accompanied by the East Coast Chamber Orchestra.
On Friday 23 and Saturday 24, the finalists will then perform a Romantic, or post-Romantic concerto with the Indianapolis Symphony Orchestra conducted by Leonard Slatkin in the AMPG Finals.
For this round, Brown will perform Bartók's Violin Concerto no.2; Wells, Shostakovich's Violin Concerto no.1 in A minor; Huang, Dvořák's Violin Concerto in A minor; both Yoshida and Lee will perform Sibelius's Violin Concerto in d minor with Rhee opting for Beethoven's Violin Concerto in D major.
The IVCI has a prize fund worth over $350,000 including a loan of a violin from the IVCI collection, including the 'ex-Gingold' 1683 Stradivari violin for four years. Gold, silver and bronze medallists will receive career management and international concert engagements. The gold medallist will also receive a Carnegie Hall recital debut, a recording contract as well as website development and maintenance until the next competition.
The finals will be live streamed at www.violin.org/watch-live.