The traditional violinist died unexpectedly on Wednesday 14 September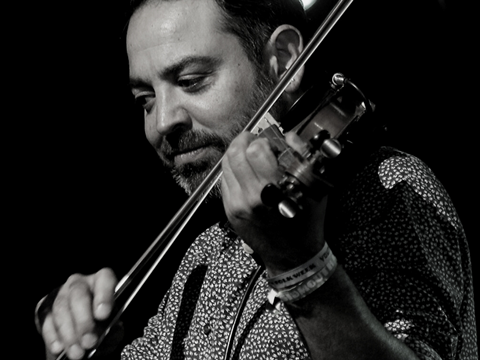 Read more news articles here
Bellowhead violinist, Paul Sartin died unexpectedly on Wednesday 14 September aged 51.
'It is with great sadness that we must announce the passing of our beloved Paul, who left us unexpectedly yesterday evening,' his family announced in a statement on 15 September. 'We know that he was someone who brought wonderful music into your lives, and that so many of you counted him as a close and dear friend.'
Alongside his work as a traditional violinist, Sartin was known as an oboist, composer, singer and a 'swanee whistle virtuoso', according to his biography. He was the founding member of three folk ensembles: Belshazzar's Feast, Faustus and Bellowhead, all of which received BBC Radio 2 Folk Awards. He also appeared with Jon Boden and The Remnant Kings and the Kelly Bayfield Band.
'We were privileged to share a stage with this masterful musician and good, good, friend,' Bellowhead said in a tweet. 'Our heartfelt thoughts go out to his mother and the boys he was so proud of.'
Sartin was a choral scholar at Oxford and received a first for his master's in traditional music. In 2007, Sartin received a 75th anniversary award from the English Folk Dance and Song Society.
For over 20 years, Sartin was director of the Andover Museum Loft Singers, a non-auditioning community choir specialising in traditional music of the south and south-west of England. As a composer and arranger, Sartin had released various collections of traditional music. His latest work The Community Choir Collection: Folk, 50 Traditional Songs from the British Isles was released in 2016 with Faber Publications.