The luthier ran a successful workshop in Colinton, on the outskirts of Edinburgh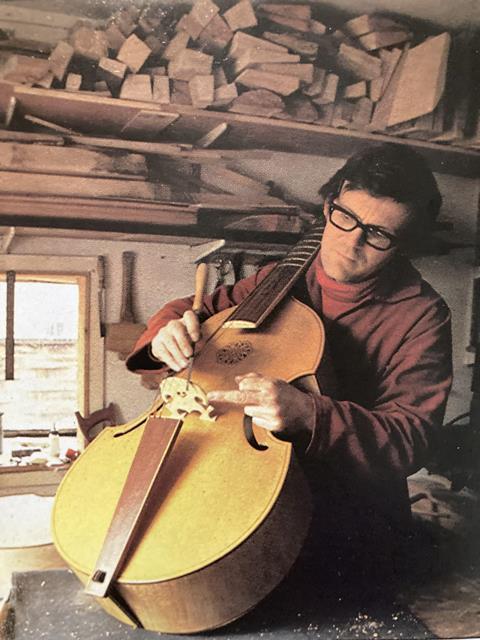 A well-liked and talented violin maker and repairer, Brian Rattray has died aged 83. The clientele at his workshop, located in Colinton, south-west Edinburgh, included Steven Isserlis, Alexa Butterworth and Leonard Friedman as well as respected traditional players such as Aly Bain and Marie Fielding.
He was born in Inverness and studied architecture at the Art College in Edinburgh. His professional career in architecture began in 1963 in Malmö, Sweden, when he took up a one-year contract with a firm there. He soon developed a love of Scandinavian culture, architecture, music and language.
During his stay in Malmö, Brian met some English guys who were planning a trip to India. He liked the idea so much that he quit his job and went on the 'hippy trail', hitch-hiking all the way from Sweden. He reached Pakistan around the time of the India–Pakistan conflict and, unable to cross the border, he travelled to Afghanistan via Karachi, stopping off at Kuwait before returning to Sweden.
Brian and a friend set up an architectural modelling business, and he met his future wife Aili. Around this time his interest in lutherie was intensified by hearing Julian Bream's Lute Songs, leading him to build his first Renaissance lute.
His passion for instruments and music remained with him and on returning to Scotland in 1979, shortly after Brian and Aili were married, he took the plunge and became a professional violin maker and repairer. His business in the scenic village of Colinton was close to the Water of Leith. He soon developed a wide customer base covering all areas of music. He proudly recalled having undertaken an emergency repair for Eberhard Weber's double bass before an Usher Hall concert.
Busy with repair work and bow rehairing, he still found time to make at least one instrument every year. His output included modern and Baroque violins (often after Gagliano) and violas. Players of his classical guitars include Francis and Lucy Cowan. He also made gambas and lutes on various patterns. Brian cited British makers such as William Luff and Wilfred Saunders as influences. He was also a devotee of Simone Sacconi's groundbreaking work The 'Secrets' of Stradivari.
He left the Colinton business on his retirement in 2006 but continued making the occasional guitar from his new home in Cove, near the Scottish borders. He is survived by his wife and two sons.