The Dutch-born craftsman made more than 600 instruments during his lifetime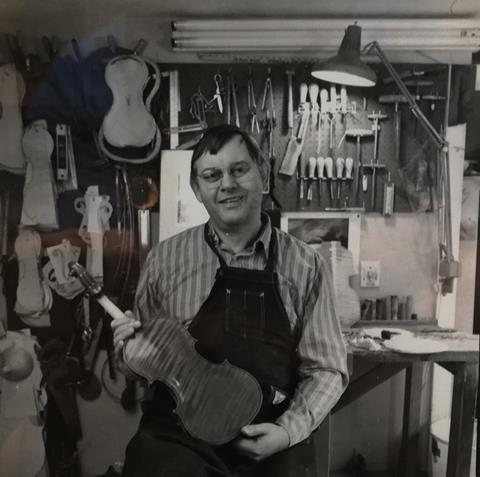 Luthier G. Marten Cornelissen has died at the age of 85. Born in 1936, he became one of the most successful living instrument makers in America, with his instruments played by Yehudi Menuhin, Bernard Greenhouse, Julian Olevski and members of the Guarneri and Juilliard quartets. He was also one of the most prolific, completing more than six hundred instruments during his lifetime. Here, fellow luthiers and customers pay tribute to their friend and colleague.
Christopher White, violin maker
Garrett Marten Cornelissen was born in Apeldoorn, Holland in 1936 and was the oldest of four children. His father was committed to forced labour in Germany during World War II, leaving his mother with three small children to raise on her own. After high school he served reluctantly in the Dutch Air Forces as a military police officer, studied engineering and then worked as a skilled machinist in a paper mill. He aspired to be an airplane designer, but after building 40 instruments as an amateur, including several guitars, Marten entered a violin making competition in Belgium. He did not win any awards, but one of the judges saw that he had talent and offered to show him how to make a violin. He then went to live for six weeks in the home of Vladimir Pilar in Hradec Kralove, Czech Republic. Here he also had the good fortune to train under Vladimir's father Karel, and learned the Czech tradition of making the plates of the violin first, then building the sides up on the back after. He would later take second place at the 1966 Queen Elisabeth of Belgium violin making competition. I have seen the violin that he made under Pilar many times and remember it as a very beautifully crafted instrument.
An American instrument dealer attending the competition also noticed Marten's potential and invited him to come and work in his Kansas City shop. While there, he was introduced to the woman who would later become his wife. Her name was Cornelia. They decided to settle in Northampton, Massachusetts, at the suggestion of violinist Philipp Naegele, who was living there and teaching at Smith College. He had been a member of The Cleveland Orchestra and was quite active in the classical music scene in New England.
Marten's reputation grew quickly. There were no violin making schools in America as yet and through the years, word spread among musicians about the quality of his instruments. At one point he had a hundred orders on the books. While they did not all materialise, many were from prominent players in the United States and Europe. Bernard Greenhouse, some members of the Juilliard and Guarneri string quartets were performing on Cornelissen instruments. Yehudi Menuhin recorded The Bartók Viola Concerto on a Cornelissen viola and wrote to Marten praising his instrument. Violinist Julian Olevski often played a violin made by Marten. The modern stringed instrument was beginning to find acceptance among players who were looking for an alternative to the high-priced antiques that had been deemed absolutely essential for a successful career.
Around 1990, I was frequently visiting violin shops and makers to get feedback on my own work. It seemed that wherever I went, I ran into a Cornelissen instrument. On a visit to Bernard Greenhouse, I was shown two Cornelissen cellos that he owned, which were based on his famous 1707 'Countess of Stanlein' Stradivari. This was the cello model that Marten would use the most throughout his career to build at least 83 cellos, though I do remember a Montagnana model that was made for David Soyer. Greenhouse owned many of Marten's cellos over the years and was an ardent supporter of his work. He also commissioned a quartet from him, and was always curious to know when the next cello would be finished. They were good friends and enjoyed sailing together on Cape Cod, Massachusetts, where Marten and Cornelia had a summer home. He built his own sailboat by hand, and earned compliments on it from some of the locaI fishermen! I returned home from my visit and called Marten to ask if he would look at my new cello. That was the first of many visits to his home in Northampton and the beginning of a 30-year friendship.
Marten and his wife Cornelia, who worked as a schoolteacher and writer, made annual visits to his native Apeldoorn for many years to visit family. They would save up all the money they could so that Marten was able to purchase the materials required for his instruments in Germany. He made at least a dozen trips to the home of the wood suppliers named Schuh in Olstad, Mittenwald, and chose fine Balkan maple wood with exquisite beauty. Leaning against the fireplace in Schuh's living room was a cello back with intense deep figure. Marten asked about it and was told that it was the finest tree the woodcutter's family had ever found. He had previously purchased the entire log!
I will always remember Marten as a kind and generous man. His love of music and art inspired him to work diligently at his craft, and his output was truly prodigious for a craftsman working alone. He would go on to complete more than six hundred instruments in all. We spoke often about violin making and even since his health began to decline, he continually expressed the hope that he would soon be well enough to sit at his bench once more and start another instrument. His deep, restless desire to create and explore new ideas after nearly six decades of practice is unusual, but I can say without a doubt that this 85-year-old maker would have been more than happy to keep at it. I will miss his wonderful sense of humour and unflagging inspiration.
Philippe Raynaud, violin maker
In 1996 I moved from my native country of France to take a position as a violin maker in the workshops of Stamell Stringed Instruments in Amherst, Massachusetts. The owner, Matt Stamell, held a reception at his shop to introduce me to the musical community there and Marten Cornelissen came to make my acquaintance. He was probably eager to meet another violin maker from Europe and to learn about my training in Mirecourt. As a rather tall man myself, I was impressed with his height and his strong personality. I was sitting on top of the world then, and I regarded him with caution.
Over the next few months, I encountered one of Marten's violins. It was not spectacular at first sight, but the proud owner was crazy about it. It was a well-made and clean instrument, and wonderfully light and well balanced. The player revealed to me that he had been waiting several years for the violin to be completed. I thought to myself: several years to wait for an ordinary violin? I can tell you now that I was totally unaware of the reputation that Marten's instruments had already earned among some of the world's finest musicians.
At the age of about 65, Marten was diagnosed with a tumour of the pituitary gland. After removal of the tumour, he was in the recovery room and suddenly had the sensation of a curtain coming down over his eyes. He was bleeding internally, and the blood pressure subsequently crushed his optic nerve. Although he still had limited vision after this, he was now legally blind and unable to drive a car or ride a bicycle. Matt Stamell told me that Marten was terribly depressed and suggested that I try to help him find a way to continue working. I went to visit him and together we developed a way for him to build his 'first violin', probably now opus 500 in his production.
It became evident that the most difficult aspects of violin making for Marten were now in the details of the decorative purfling and edge thickness. Because he had lost depth perception in one eye, it was very hard to carve a pegbox, but certain other aspects like carving the arching and varnishing were so ingrained in him after many years at the same workbench that he carried on for the next 20 years, and completed another hundred instruments, including several cellos. It must have taken tremendous energy and resolve for him to do this, and in fact I do not understand how he succeeded.
I began to visit Marten every month or so. We would work together, but mostly just chatted about everything, mostly his life. It was a joy because he had a sharp mind and a malicious sense of humour. I remember sitting next to him in his living room. He was seated in an impressive armchair and had given me a seat in what seemed like a child's chair. I asked him, 'Why is it you are always positioned above me?' He replied with his childish smile, 'Because I like to look down on people!'
A few years later I joined the workshop of Reuning & Son Violins in Boston, Massachusetts. I now had the opportunity to study many Cornelissen instruments that were there for repair or adjustment. It soon became apparent to me that these instruments were more stable than most in terms of seasonal changes in humidity. This can be a real headache for string players and makers around the world, as instrument necks bend and often make playing music very challenging due to changes in string height and soundpost adjustment. Marten always assembled his instruments in optimal conditions and was quite rigorous about it, weighing all the parts before gluing them together.
When it came to varnishing, Marten Cornelissen was adamant in making instruments that looked 'new'. No antiquing or shading or any artificial ageing of the wood. He would often say, 'That's like a new baby with wrinkles!' He had the mind of an old school engineer and had developed his own theory of how energy moved through the arching and thicknesses of an instrument. After an intense discussion of this he would say, 'Oh well, everyone has to have a system. Let's go to lunch, Chinese or the Bluebonnet restaurant?' Marten was the best violin maker I ever met and future generations of musicians will benefit from his prolific output of instruments.
Roel Dieltiens, cellist
I first heard about Marten from his brother Henk Cornelissen, a particularly talented bow maker. Marten then lived in the US where he was very well known as a violin maker. I thought: if this American brother of Henk builds instruments as beautiful as Henk makes bows, I will contact him immediately. At the time I was looking for a better instrument than the one I had been playing.
I called Marten and asked him if he would like to build a cello for me. About a year later, in 1992 I travelled to Northampton to get acquainted with the new instrument. Rarely was I so warmly welcomed, and I was allowed to enjoy the hospitality of Cornelia and Marten for the days I tried out the cello there.
To this day this cello accompanies me on all my concert tours. I have made dozens of CD recordings with it, because all the qualities that a good instrument should have, were present from the very beginning. Simply wonderful! What craftsmanship and what good taste!
Thank you Marten for your friendship and thank you for that wonderful musical voice you gave me. I am sure that the cello you built for me will make many cellists after me extremely happy.
Gwen Krosnick, cellist
It has been such a privilege to spend the past 20 years playing on a Marten Cornelissen cello. Mine was made in 1978, with measurements based on the Stradivari cello played by (and named for) Duport. I've been fortunate to spend the majority of my career — in addition to recitals, contemporary music and teaching — as a chamber musician. And so I can truly say that no cello could be a more wonderful companion for those adventures than my Cornelissen cello: whose exuberant and brilliant A-string register (which was so helpful and important in the eight years I was a piano trio cellist, as a founding member of Trio Cleonice) is matched only by the warmth and tenderness of its D string, and by the rich beauty of the G. It is surpassed, though, I think, by a C string so miraculous it's hard to find words — a bass register that is the sound of a chamber music cellist's dreams: in fact not one sound at all, but a palette of colours and emotional places so profound and deep that it not only supports my imagination but encourages it to dream further. It growls, it sings, it soars. From Schubert trios to new music to the true litmus test of Haydn string quartet bass-lines: what truly great and special sounds this cello makes and allows me to make. Following his death, Mr Cornelissen's great artistry will surely live on, for those of us who are fortunate enough to play on his instrument — and, I hope, for the many audience members who get to hear them.