Leah Hollingsworth hears the performance of Beethoven and Jörg Widmann at Alice Tully Hall, New York, on 30 November 2022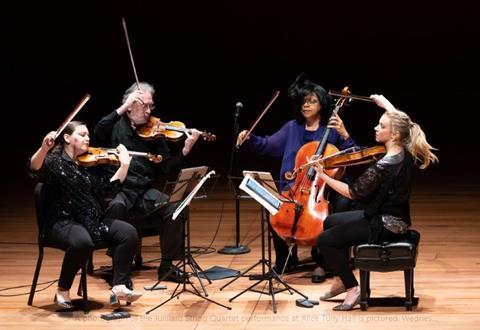 Alice Tully Hall 30 November 2022
The Juilliard Quartet presented a 'deep dive' into Beethoven's op.130 String Quartet at Alice Tully Hall, performing it alongside two commissions by Jörg Widmann based on op.130 and concluding with the Grosse Fuge, the original finale to op.130. Ronald Copes gave a warm introduction to the concert amid fervent cheering (it was a shame the audience wasn't larger, but it was certainly enthusiastic) and shared the history of and inspiration for the Widmann pieces.
Despite a plethora of personnel changes in recent years, the Juilliard performed Beethoven's op.130 Quartet with immaculate ensemble and impressively synchronous character changes throughout. First violinist Areta Zhulla led the group well, with her mixture of emotive and precise playing, and while I occasionally wished for a richer sound from cellist Astrid Schween, at other times I was thankful for her sensitivity. The sense of gesture in the Scherzo movements was strong, but a bit more articulation would have been a nice complement. Violist Molly Carr's eloquent tone and playful approach to the opening of the third movement was delightful and the Cavatina was exceedingly passionate and tender from all four players. They brought to the finale a sense of joy, with moments of humour despite its gravity.
The two Widmann quartets, nos.8 and 10, were imaginative and bold, incorporating many extended techniques as well as quotations from the Beethoven throughout. No.10 – receiving its New York premiere – was a study on the Cavatina, featuring highly intense moments and concluding with an unforgettably intimate practice-muted section. It was followed immediately by the Grosse Fuge, and the attacca approach was extremely effective. This was played with vigour and intensity, passion and beauty, led again by Zhulla, whose colourful approach was captivating.
LEAH HOLLINGSWORTH