The prestigious lutherie event in the south of Germany takes place every four years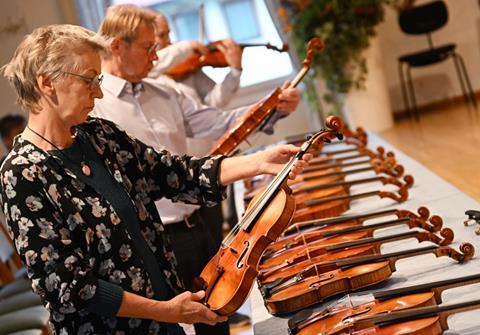 Read more lutherie articles here
The town of Mittenwald in south Germany has hosted its ninth International Violin Making Competition. This year, 161 violin and bow makers from 25 countries participated in the contest, which takes place every four years.
This edition saw a change in the format, in that separate categories were created for 'replica' instruments, i.e. those that had been artificially aged by the luthiers. Hence, as well as the categories for violin, viola and cello, each instrument had its own 'replica' category. Prizes were also awarded for violin, viola and cello bows.
French luthier Roland Belleguic took first prizes for violin and replica viola, and second prize for viola. The 32-year-old studied violin making at Mirecourt and then served as an apprentice with Patrick Robin. 'I have always loved to "travel" with my hands, to design and transform an image in my head into reality,' he said. 'I loved working with wood and at the age of 16 I became a carpenter. At that time I discovered my passion for jazz guitars. And so the desire to build instruments arose.' Belleguic is now based in St Sulpice sur Loire.
First prize for a viola was won by German luthier Ulrich Hinsberger, who also came second in the violin category. Polish luthiers took third place in both categories: Paweł Kubacka for violin, and Klemens Siatkowski for viola. In the cello category, only a third prize was awarded, to Paris-based luthier Francesco Coquoz.
Other prizewinners included: Monica Fortin, Melina Polizzi and Meike Finckh for replica violin (joint 1st); Florian Zinkhahn for replica violin (2nd); Angela Hünig for replica viola (3rd); and Andreas Haensel for replica cello (2nd). Prizewinning bow makers included Yongmin Na, Joséphine Thomachot, Andreas Uebel, Panka Vaczula and Magdalena Sapeta.
In total, 195 instruments and 38 bows were submitted for the competition. The jury was headed by luthier Hieronymus Köstler and included Andrea Frandsen, Christian Lijsen, Serge Stam and Andrew Fairfax. Josef Gabriel and Eric Grandchamp assessed the bows. The sound jury comprised Péter Bársony, Kerstin Feltz and Tim Vogler.
The town of Mittenwald has been a violin making hub since 1700, when Matthias Klotz was the leading instrument maker. The young Wolfgang Amadeus Mozart was among those who performed on an instrument made in Mittenwald.
Photo: Angelika Warmuth / Alpenwelt Karwendel
Read more lutherie articles here