The Japanese ensemble take home first prize of €12,000 following Saturday night's final at the Liszt Academy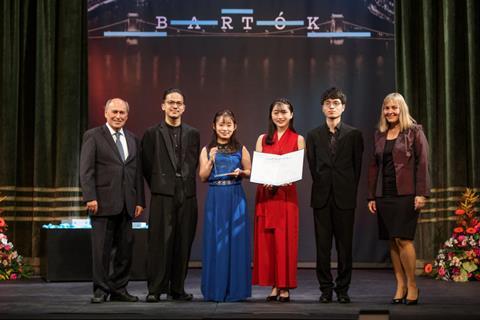 Quartet Integra have won first prize of €12,000 at the string division of the Bartók World Competition. The final was held on Saturday 30 October at the Solti Hall, Liszt Academy in Budapest.
The final round consisted of five string quartets which performed Schubert string quartet in C minor Quartettsatz and a Bartók string quartet. Second place of €8000 was awarded to the Austrian Chaos Quartet, while third place of €4000 went to the Sonoro Quartet from Belgium.
Special awards and future performance engagements were also given out on the night: The Chaos Quartet and fellow finalists the Korossy Quartet were each awarded a concert invitation and a radio recording from Bartók Radio. The Sonoro and the Korossy string quartets won an opportunity to perform at the Auer Festival; the Bartók Memorial House invited the Sonoro Quartet to a performance; the concert invitation of the Liszt Academy in the 2022-2023 season went to the Korossy Quartet; and the Chaos Quartet and the Korossy Quartet will have the opportunity to perform at the Festival Academy Budapest next summer.
Formed in 2015, Quartet Integra consists of Kyoka Misawa and Rintaro Kikuno on violins, violist Itsuki Yamamoto and cellist Tsukiji Anri. They are currently studying as Suntory Hall Chamber Music Fellows.
The Bartók World Competition was founded in 2017, alternating disciplines between violin, piano, string quartet and composition.
Read: Michiaki Ueno wins Geneva Cello Competition
Read: Bulgarians and Italians take top awards at ANLAI violin making competition
Read: My Space: Yuji Kaneko