Prospective competitors now have until 4 February to apply for this year's competition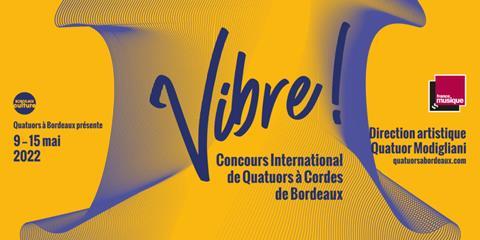 The Bordeaux International String Quartet Competition has postponed its registration date for the 2022 competition to 4 February. This is to help facilitate applications for young musicians who may have been suffering due to the difficulties caused by the ongoing pandemic.
The results of the pre-selection, made by jury members Amaury Coeytaux, (Quatuor Modigliani) Guillaume Sutre, (ex Ysaÿe Quartet) and Tanja Tetzlaff, (Tetzlaff Quartet) will be announced on 19 February.
Chosen ensembles will have the chance to compete for €85,000 in prizes - including €38,000 in cash, a set of bows by Edwin Clement, Meilleur Ouvrier de France, a ProQuartet masterclass program, a residency at the Ravel Academy in Saint-Jean de Luz, a set of high-end BAM Cases for instruments, Henle Urtext vouchers, as well as an international tour organised by CLB Management and an album recording produced by Mirare and distributed by Pias / Harmonia Mundi.
Now in its tenth iteration, the Bordeaux International String Quartet Competition occurs every three years, alternating with the Premio Paolo Borciani Competition (Reggio Emilia) and the Wigmore Hall International String Quartet Competition (London). The competition dates are 9-15 May 2022. For more information, including how to apply, click here