The violinist was leader of the Orchestre de Paris since 1985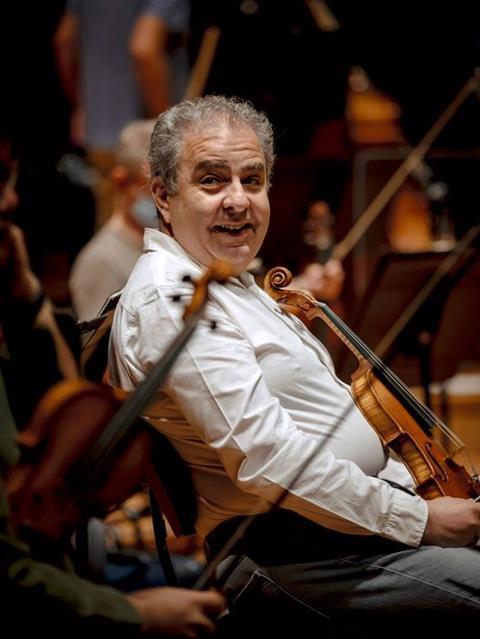 Read more news articles here
The death of French violinist and conductor Philippe Aïche was announced by the Orchestre de Paris on 20 October 2022. Aïche was 59, having battled an illness for over a year.
'He helped build the identity of our ensemble, combining humour with virtuosity,' the orchestra said in a statement. The ensemble plans to dedicate the concerts of its current Japan tour to Aïche's memory.
Aïche began his violin studies at the age of eight at his hometown conservatory in Antony near Paris. 'My neighbour was going to the conservatory and I wanted to imitate him,' Aïche said in an interview with Orchestre de Paris. 'I wanted to play the piano, but alas, there was no more room. So I chose the violin, which surprised my parents a lot because I was pretty clumsy with my hands!'
After receiving a gold medal at the regional conservatory in Versailles in the class of Antoine Goulard, he entered the Paris Conservatoire (CNSMDP) in 1979, studying violin with Christian Ferras and chamber music with Jean Hubeau.
Early in his career, Aïche accumulated many awards and accolades, including a chamber music prize at the conservatory, which enabled him to study with Michèle Auclair, Jean Mouillère and Roland Pidoux. He was laureate of the Tibor Varga and Lipizer International Violin Competitions, as well as the Florence and Melbourne International Chamber Music Competitions.
He joined the Orchestre de Paris in 1985 as its concertmaster, where he had the opportunity to work with conductors such as Solti, Giulini, Bernstein and Maazel. He performed internationally as a soloist, including the premiere performance of Eric Tanguy's Second Violin Concerto in 1997, with the Orchestre de Paris under the baton of Semyon Bychkov.
In addition to his orchestral and solo work, Aïche worked as a conductor. In 2001, he directed the Orchestre de Paris in a performance Beethoven Symphony no.9 for the 'fête de la musique' at the French Prime Minister's residence, Hôtel Matignon, in Paris. He continued to maintain a strong bond with his alma mater, as musical director of the Conservatoire Laureates Orchestra. He served as an assistant to violinist Régis Pasquier at the Paris Conservatoire since 2003 and served on the faculty of the Regional Paris Conservatory since 2001.