The founding first violinist of the St. Lawrence String Quartet died after a battle with cancer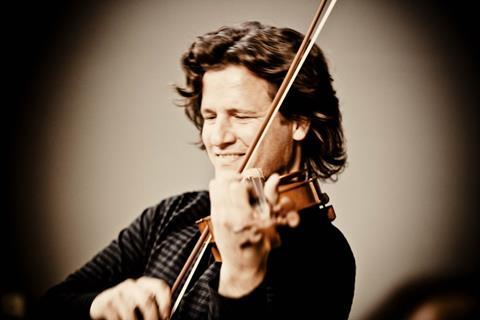 Read more news articles here
American violinist Geoff Nuttall has died after a year-long battle with pancreatic cancer, aged 56.
Nuttall was co-founder and first violinist with the St. Lawrence String Quartet (SLSQ). Founded in 1989, the quartet recorded exclusively with EMI Classics, received two Grammy nominations and won multiple awards including the Banff International String Quartet Competition and the Young Concert Artist Auditions.
In a joint statement, SLSQ members Owen Dalby, Lesley Robertson, Christopher Costanza said: 'Geoff was an inspired artist whose loyalty to his chosen passions and people was legendary. He fought cancer as he lived his life, brimming with optimism and tirelessly showing up for the things he loved the most: spending time with Livia and playing sports with his boys.'
As a teacher, Nuttall was a member of the string faculty at Stanford University, where the SLSQ was ensemble-in-residence since 1999. The SLSQ had also been graduate ensemble-in-residence at the Juilliard School, Yale University and Hartt School of Music. Nuttall also worked as teaching assistant to the Juilliard, Tokyo and Emerson Quartets.
From 2009 until his passing, he was the director of chamber music at the Spoleto Festival USA in Charleston, SC, where he brought together many chamber musicians with spontaneous collaborations, and was known for delighting audiences with his engaging, warm and insightful introductions.
'Geoff had an energetic and spiritual connection to music that rubbed off on anyone lucky enough to witness him play,' the quartet's statement continues. 'He constantly inspired us to heights we never dreamed of. We will miss him every single day, but feel immensely grateful to have been his fellow traveler.'
Nuttall is survived by his wife, violinist Livia Sohn, and their children Jack and Ellis.
The family and quartet have set up The Geoff Nuttall Memorial Fund to advance cancer research at Stanford University and have asked people to consider donations in lieu of sending flowers. More information can be found at memorial.stanford.edu.