Argentinian double bassist Juliàn Medina wins a copy of Bottesini's Testore bass, worth €30,000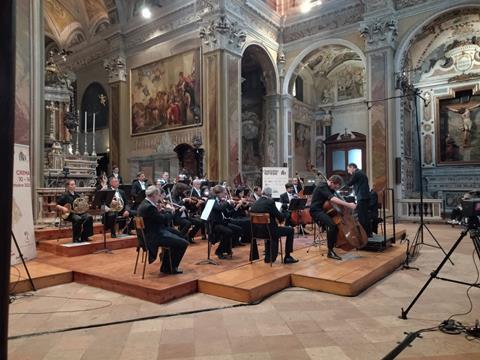 Read more news articles here
The final of the 8th International Bottesini Competition was held on Sunday 16 October in Crema, Italy.
29-year-old Argentinian double bassist Juliàn Medina won first prize, named in honour of Walter Stauffer. Medina received a double bass, which is a copy of Bottesini's Testore instrument, by Marco Nolli worth € 30,000. He also received sets of strings by Pirastro and D'Addario..
Second prize went to 21-year-old Italian bassist Fabrizio Buzzi, who won € 5,000 from the Cremona Chamber of Commerce, as well as a bow by Adriano Massari worth € 4,000, plus sets of strings from Pirastro and D'Addario. Third prize went to 25-year-old Hyunju Kim from South Korea, who took €3,000 from the LGH Foundation, a Marco Pasquino bow worth € 2,500, as well as strings from Pirastro and D'Addario.
The final performances were accompanied by the Orchestra di Padova e del Veneto, conducted by Damian Iorio.
The jury was chaired by violist Bruno Giuranna and comprised competition artistic director Enrico Fagone, Franco Petracchi, Thomas Martin, Timothy Cobb, Fora Baltacigil and Zsolt Fejervari.
The final was the culmination of a week-long competition, which saw the participation of 60 double bassists from 28 countries. In addition to the competition, the Bottesini Association also saw other musical and cultural events throughout the week, including the Giovanni Bottesini Exhibition, double bass masterclasses hosted by the Stauffer Foundation of Cremona at the Stauffer Center for Strings, visits to Palazzo Terni de' Gregorj and Palazzo Zurla de Poli, and the violin-making exhibition at the Sala Rossa of the Bishop's Palace, coordinated by violin-maker Gioele Grippa.
The International Bottesini Competition was formed in 1989 by Franco Petracchi and has since attracted the highest level of bass players from around the world. The competition commemorates Giovanni Bottesini, whose soloistic ability on the instrument and compositions for the double bass made him one of the most influential double bassists of all time.