The NY Phil Bandwagon will run for the next eight weeks, serving all five boroughs in New York City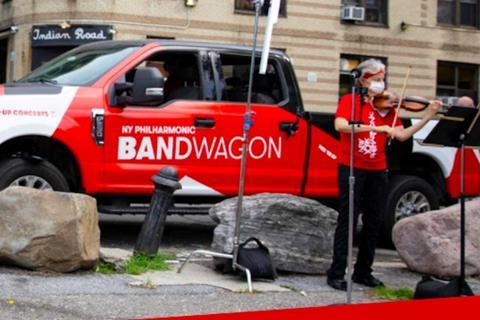 The New York Philharmonic is to restart live outdoor concerts with the NY Phil Bandwagon: a customised pick-up truck that will serve as a stage for pop-up chamber events. From this Friday, small ensembles from the orchestra will perform on street corners, sidewalks and plazas in various locations across the city. The brainchild of countertenor Anthony Roth Costanza, NY Phil Bandwagon will present three concerts a day from Friday through to Sunday, for the next eight weeks.
Read: Carnegie Hall cancels rest of 2020 performances
Read: New York's major cultural institutions close due to Coronavirus
Concerts will take place in accordance with social distancing regulations, with masks distributed and participating musicians repeatedly tested for the virus. In order to limit the audience sizes, the times and locations of concerts will not be announced in advance, but the Bandwagon is expected to serve all five boroughs and will appear near Lincoln Center. NY Phil President and CEO Deborah Borda told the New York Times: 'we are providing new points of access to classical music as well as beginning a dialogue with communities across the city.'
NY Phil Bandwagon launches this Friday with performances by three NY Philharmonic string players.