Leah Hollingsworth hears the performance of Sibelius and Julia Wolfe at New York's David Geffen Hall on 3 June 2023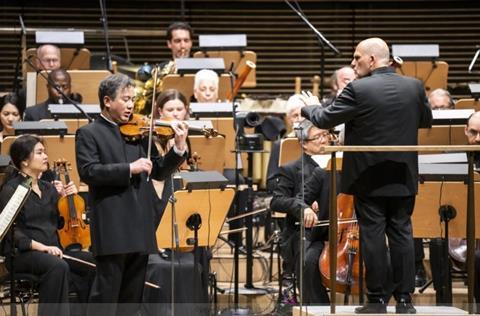 Playing in front of one's own colleagues is perhaps the most challenging of feats, and concertmaster of the New York Philharmonic Frank Huang handled it with grace and poise, performing Sibelius's Violin Concerto to a packed house three nights in a row. His opening violin cadenza had a careful attention to timing and a beautifully sustained sound thanks to silky smooth bow changes and impressive control. Long phrases in the Adagio soared above the rich orchestral sound and Huang's sweet tone and tasteful vibrato enchanted. Huang brought whimsy and a nice spirit to the final Allegro, and, while I wondered if the tempo was exactly his choice, he brought flair and dynamism to the music, concluding a reading that proved him not just capable of leading one of the world's greatest orchestras, but also more than capable of standing before it too.
Julia Wolfe's New York Philharmonic commission unEarth received its world premiere after the interval; this was a profound and complex experience featuring singers (a children's chorus, a men's chorus and soprano soloist Else Torp), projections, choreography and a full stage of musicians. The piercing purity of Torp's voice was arresting in the second movement and the orchestra played with power, commitment and vibrancy throughout – even if it sometimes served as a bit of a backdrop to the work's other elements. The message of the dangers of climate change and our role and responsibility to tend to our planet were powerfully clear, and bravo to the Philharmonic for taking on such an important project and multifaceted work.
LEAH HOLLINGSWORTH