Nikolai Sachenko becomes the ensemble's new first violinist following the retirement of Ruben Aharonian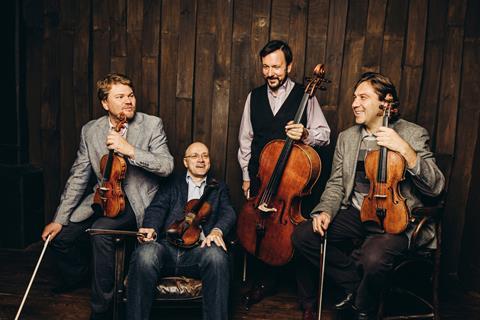 Read more news articles here
The Borodin Quartet has announced the appointment of Nikolai Sachenko as its new first violinist.
Sachenko, a former gold medallist at the International Tchaikovsky Competition in 1998, commented, 'I am happy to join my friends and colleagues of the quartet and, together in our shared passion for the quartet world, I hope to continue this remarkable tradition of musical eminence!'
Sachenko replaces Ruben Aharonian, who joined the quartet in 1996. 'We would like to express our greatest appreciation to the magnificent maestro Ruben Aharonian for leading the quartet for almost a quarter of a century,' said the other quartet members, violinist Sergei Lomovsky, violist Igor Naidin and cellist Vladimir Balshin. 'Those have been unforgettable years, playing concerts together in the best halls around the globe.
'We warmly welcome our new colleague Nikolai Sachenko – he is a brilliant violinist, a first-class professional and a dear friend who loves chamber music immensely. With Nikolai we are looking forward to a successful collaboration with many interesting projects and programmes for our beloved audiences.'
Sachenko has performed with many conductors and orchestras in Russia, Japan, USA, China, throughout Europe and Latin America, performing also in ensembles with Yuri Bashmet, Gidon Kremer, Lynn Harrell among others, appearing at international festivals in Beijing, Kronberg, Prague, and at the Rostropovich Festival in Evian.
The quartet looks forward to carrying on the tradition of the original group. Formed in 1945, former members of the ensemble include long-standing players such as Rostislav Dubinsky, Mikhail Kopelman, Valentin Berlinsky, Andrei Abramenkov and Dmitri Shebalin.