The Isidore Quartet took the top prize including $25,000 CAD and a three-year artistic and career development programme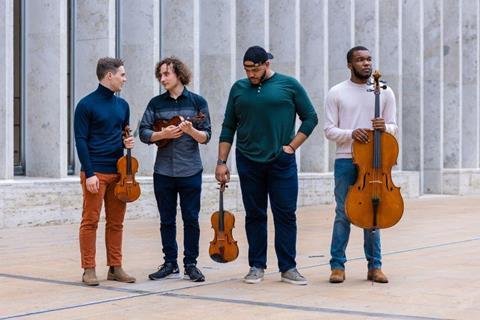 Read more news articles here
The finals of the 14th Banff International String Quartet Competition (BISQC) were held on Sunday 4 September at the Banff Centre for Arts and Creativity.
The Isidore Quartet (US) was named the winner following seven days of competition between nine quartets from around the world.
In addition to the $25,000 CAD cash prize, the quartet received a custom-designed, three-year artistic and career development programme. This includes European and North American winners' concert tours, arranged by Banff Centre, a two-week residency at Banff Centre including a recording produced by Banff Centre, as well as coaching, career guidance, and mentorship.
The prize package also includes a numerous residencies for the ensemble, including the Southern Methodist University Peak Fellowship Ensemble-in-Residence Prize at Meadows School of Arts, worth over $200,000 CAD; Esterházy Foundation Residency including concerts at Haydn Hall in Eisenstadt and the Lucerne Festival; an opportunity for a two-week chamber music residency at Britten Pears Arts in England; and the Lawrence String Quartet's 'John Lad Prize', which comprises BISQC winners' concert on the main stage of Stanford University's Bing Recital Hall for Stanford Live's series in 2022-23.
The quartet also won the R.S. Williams & Sons Haydn Prize of $4,000 for the best performance of a Haydn quartet from the competition's first round.
Comprising violinists Phoenix Avalon and Adrian Steele, violist Devin Moore, and cellist Joshua McClendon, the Isidore Quartet was formed in 2019 as part of the chamber music programme at the Juilliard School. Following the disruption of the Covid-19 pandemic, the quartet reconvened at the 2021 Kneisel Hall Chamber Music Festival under the tutelage of Joel Krosnick. The quartet counts Joseph Lin, Astrid Schween, Laurie Smukler, Roger Tapping, and Joel Krosnick as its coaches. The quartet recently participated in the 2022 Ravinia Steans Music Institute.
Opus13 (Norway/Sweden) won second prize of $12,000, while the Balourdet Quartet (US) won third prize of $8,000. Each ensemble will also enjoy a creative residency at the Banff Centre including coaching and mentorship opportunities.
The Canadian Commission Prize, worth $4,000 for the best performance in the third round of the newly commissioned quartet by Dinuk Wijeratne, went to Quatuor Agate (France), while Christine and David Anderson Career Development Prizes, worth $5,000 were awarded to the quartets that did not advance to the finals, went to the Abeo Quartet, Animato Kwartet, Dior Quartet, Karski Quartet, Quatuor Agate and Terra String Quartet.
The jury consisted of Estelle Choi, James Ehnes, Juan-Miguel Hernandez, Barnabás Kelemen, Catherine Manson, Károly Schranz and Sund-Won Yang.
The BISQC was established in 1983. Past winners of the competition include the Marmen, Viano, St. Lawrence, Miró, Daedalus, Jupiter, TinAlley, Cecilia, Dover, and Rolston Quartets.