Carlos María Solare hears the performance of Beethoven and Shostakovich at Berlin's Konzerthaus on 27 September 2022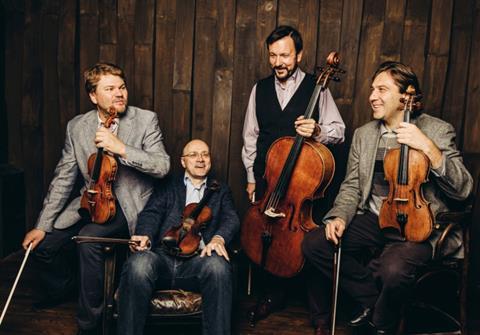 I have vivid memories of a series of concerts given by the Borodin Quartet in the Small Hall of Berlin's Konzerthaus, counterpointing music by Beethoven and Shostakovich. Looking up the dates, I was shocked to realise that they had taken place almost three decades ago! Fast forward to September, when the group returned to the same venue for a programme that included Beethoven's op.132 and the monumental threnody that is Shostakovich's final quartet, no.15. Of course, it was a completely different line-up from the one I had heard in the 1990s, Messrs. Kopelman, Abramenkov, Shebalin and Berlinsky all having retired during the intervening years. Alas, I had only one chance to hear the group live during Ruben Aharonyan's tenure as leader; the concert under review was part of the group's first foreign tour with his successor, Nikolai Sachenko.
Sachenko is a virtuoso for whom Beethoven's intricate lines, which so nonplussed the piece's first interpreters, hold no terrors, but on this showing he sounded almost too flamboyant for this sublime piece, particularly alongside his reticent violin colleague.
But that is a minor reservation: that Sachenko is indeed the man for the job was forcibly demonstrated by the Borodin's devastating reading of the Shostakovich, its unbroken 40-minute arch sustained with the utmost intensity. Vibrato – or the absence thereof – was perfectly gauged by the four players in the opening Elegy, while their pianissimo entries in the following Serenade emerged inaudibly from the preceding sforzatos. Sachenko's cadenza-like runs in the Intermezzo were judged to perfection and punctuated by perfectly calibrated chords from his colleagues. The piece's desolate Epilogue was followed by a seemingly interminable silence.
An encore appeared out of the question, but the Borodin surprised and delighted us with the first movement from Shostakovich's First Quartet, ending the concert with Tchaikovsky's gorgeous Andante cantabile.
CARLOS MARÍA SOLARE