Prolific Baroque violinist Adriane Post will take up the role for the 2022/23 season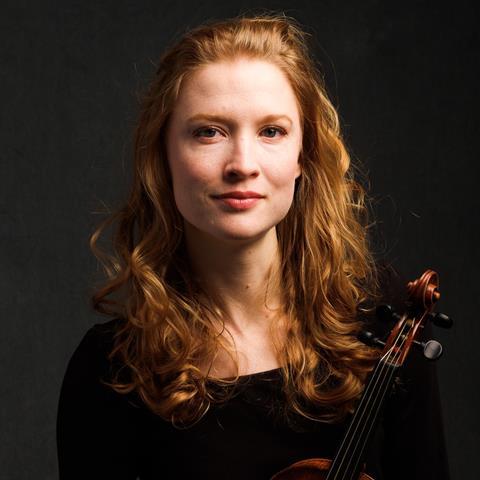 After a US-wide search earlier this season, the Indianapolis Baroque Orchestra (IBO) has appointed violinist Adriane Post as its new concertmaster. Post takes over from founding concertmaster Allison Nyquist, who retired in 2019.
'Adriane is a wonderful musician and a brilliant violinist, and I'm looking forward very much to our collaboration,' said IBO artistic director Barthold Kuijken. 'At the same time, I want to express all my gratitude to our now-retired concertmaster Allison Nyquist, and to Martie Perry (acting concertmaster), Jeremy Rhizor, and Guillermo Salas Suárez who did a great job leading IBO projects during the interim.'
Post expressed her excitement upon her appointment: 'I look forward to joining Barthold Kuijken and the lovely players of IBO on a new journey, and getting to know them as individuals and as a team. I'm excited about my first season with them next year and especially to finding a string sound together in the season opening programme.'
Post has worked in the US and abroad as a performer, soloist, leader, teacher and chamber musician. She is a founding member of the ACRONYM Ensemble and Diderot Quartet, and has served as concertmaster of the National Cathedral Baroque Orchestra, co-concertmaster of Apollo's Fire in Cleveland, and as guest leader with ensembles Seraphic Fire and The Thirteen.
She has toured with The English Concert and recent festival engagements include Festival Oude Muziek Utrecht, Boston Early Music Festivals and Carmel Bach Festival.
As a pedagogue, her teaching engagements have brought her to Cincinnati Conservatory, Oberlin Baroque Performance Institute, the Smithsonian Institute, DePaul and Northwestern University. Post holds a Bachelor of Music from Oberlin Conservatory and a Master of Music from Juilliard, where she was part of the inaugural class of the Historical Performance programme.