Violinist Ionel Manciu has been announced as first concertmaster of the Netherlands Philharmonic Orchestra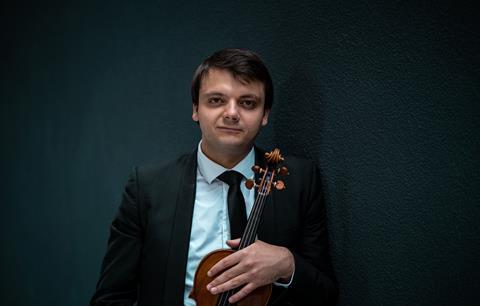 The Moldavian violinist was appointed this week following an announcement on the orchestra's website on Tuesday.
Ionel Manciu will make his first appearance in his new role this weekend as the orchestra performs Bruckner's Symphony no. 8 under the baton of former chief conductor Hartmut Haenchen.
'When Ionel Manciu played with us for the first time, you could see how with his hawk eyes he sought contact with various musicians from the orchestra at all crucial moments,' said conductor Willem De Bordes. 'His love for the orchestral repertoire seems limitless, he knows the score inside out and is a support for every conductor.'
Manciu studied at the Guildhall School of Music and Drama under the guidance of Professor David Takeno and during his studies received support from the Leverhulme Trust, the Derek Butler Trust, the Countess of Munster Musical Trust and Help Musicians UK. He has previously performed with the Lvov Chamber Orchestra and the Pori Chamber Orchestra in Finland amongst many others.
As part of the Mithras Piano Trio, he has won the Trondheim International Chamber Music Competition, the Royal Over-Seas League Competition and the Cavatina Trust Chamber Music Competition, among others.

Manciu plays a Gagliano violin on loan from the Tompkins Tate Musical Instrument Trust.