Nine senior category and ten junior category violinists have progressed to the semi-finals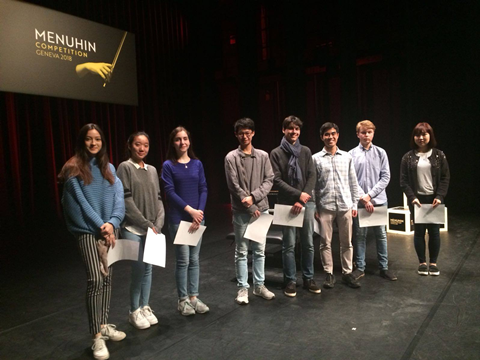 The semi-finalists in the 2018 Menuhin Competition are:
Senior category
Tianyou Ma, China, 17
Diana Adamyan, Armenia, 18
Sumina Studer, Switzerland, 21
Nathan Mierdl, France / Germany, 20
Nikola Pajanović, Slovenia, 18
Elli Choi, USA, 16
Eric Tsai, USA, 21
Otto Antikainen, Finland, 18
HyunJae Lim, South Korea, 20
Junior category
Haewon Lim, South Korea, 14
Anatol Janos Toth, Switzerland / Germany, 14
Clara Shen, Germany, 12
Chloe Chua, Singapore, 11
Hina Khuong-Huu, USA / Japan / France, 13
Christian Li, Australia, 10
Miray Ito, USA / Japan, 15
Non Aoyama, Japan, 13
Ruibing Liu, China, 13 (missing on the picture)
Guido Sant'Anna, Brazil, 12
The semi-finals will take place at the Conservatoire de musique de Genève on Tuesday 17 April (juniors) and Wednesday 18 April (seniors).
Founded by Yehudi Menuhin in 1983, the competition is separated into a Junior Division, open to violinists aged between 11 and 15, and Senior Division for ages 16 to 22.
The biennial competition is unusual for moving to different locations each edition: the previous event, 2016, in the 100th anniversary year of founder Yehudi Menuhin's birth, took place in London. Its winners were Ziyu He (Senior Division) and Yesong Sophie Lee (Junior Division).
Previous prize winners include Tasmin Little, Nikolaj Znaider, Ilya Gingolts, Julia Fischer, Ray Chen, Chad Hoopes, Stephen Waarts and Callum Smart.