The Japanese competition offers $27,000 first prize plus a package of concerts and other benefits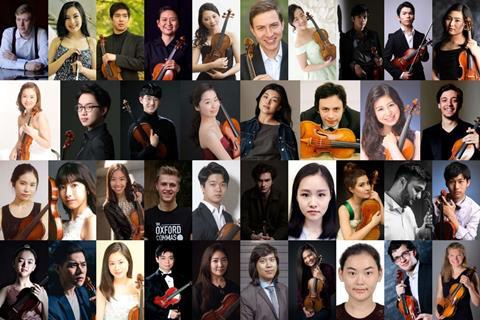 The seventh Sendai International Violin Competition will be held from 15 to 30 June 2019, with it's sister piano event starting 25 May.
The competition invited candidates of all nationalities born on or after 1 January 1991. Following pre-selection, 38 violinists will take part in the live rounds at Hitachi Hall in Sendai.
They are:
Rio Arai (20, (Japan)
Yurina Arai (24, (Japan)
Jiwon Choi (20, Korea)
Isabelle Ai Durrenberger (20, US)
Kaori Furusawa (20, Japan)
Yuki Ishihara (25, Japan)
Mimi Jung (24, US)
Karen Kido (24, Japan)
Honoka Kishimoto (24, Japan)
Chihiro Kitada (22, Japan)
Donghwi Ko (22, Korea)
Orin Laursen (26, US)
Lee Chi (26, Taiwan)
Shannon Lee (26, Canada)
Xinwen Liang (12, China)
Dongmin Lim (17, Korea)
Charlie Lovell-Jones (20, UK)
Jiaqi Lu (21, China)
Hao Miao (25, China)
Mariko Miwa (25, Japan)
Elias David Moncado (18, Germany)
Ryuto Murao (21, Japan) 
Andrea Obiso (24, Italy)
Alfredo Reyes Logounova (27, Mexico)
Alexis Roussine (23, France/Russia)
Kiarra Saito-Beckman (20, US)
Felicitas Schiffner (21, Germany)
Tomotaka Seki (20, Japan)
Orest Smovzh (27, Ukraine)
Grigorii Tadtaev (26, Russia)
Yuriko Takemoto (20, Japan)
Kelly Talim (23, US)
James Kendell Thompson (25, US)
Mayu Tomotaki (23, Japan)
Julia Turnovsky (28, Austria)
Jiman Wee (26, Korea)
Weilu Zhang (25, China)
Yingchen Zhang (26, China)
Twelve of the competitors will profress from the preliminary round to the semi-final (21-23 June), and six to the final round (27-29 June) with the winners giving a gala concert on 30 June.
They jury, chaired by Yuzuko Horigome, comprises Gidon Kremer, Masafumi Hori, Boris Belkin, Olivier Charlier, Rodney Friend, Tomoko Kato, Younguck Kim, Cho-Liang Lin, Saeka Matsuyama, Joel Smirnoff, and Isabelle Van Keulen.
The gold medal includes a cash prize of JPY 3,000,000 (c. $27,000), CD production and a package of concerts and recitals in Japan. Prominent past laureates include Alena Baeva, Clara-Jumi Kang, Richard Lin and Bomsori Kim.
More information at simc.jp/en