The orchestra's return to the Barbican is scheduled for Tuesday 18 May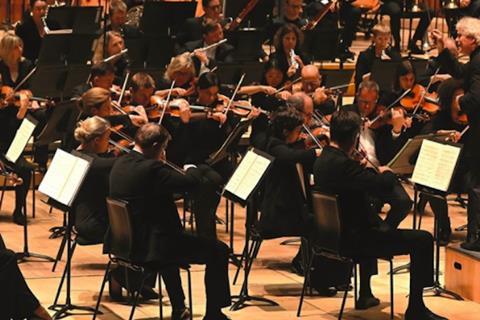 The LSO has announced that it plans to return to the Barbican Hall with socially distanced live audiences on Tuesday 18 May 2021. The performances - one at 3.30pm and another 6.30pm (both without interval)- will feature Sir Simon Rattle conducting a programme of Britten's Young Person's Guide to the Orchestra, Fauré's Pelléas et Mélisande Suite and Dvořák's Slavonic Dances Op 46.
On Wednesday 26 May and Thursday 27 May at 3.30pm and 6.30pm, Michael Tilson Thomas conducts concerts featuring Greig's The Last Spring, Rachmaninoff's Piano Concerto No 2, and Beethoven's Symphony No 5, with guest soloist pianist Yuja Wang.
On Sunday 30 May at 5.30pm Michael Tilson Thomas conducts a programme at LSO St Luke's comprising Copland's Our Town, Shostakovich's Piano Concerto No 2, and Tchaikovsky's Symphony No 2, again with Yuja Wang as guest pianist. There will be a very limited audience for this concert.
Read Simon Rattle to leave the London Symphony Orchestra
Read London Symphony Orchestra to return to Barbican Hall
Read London Symphony Orchestra moves autumn season to LSO St Luke's
The final Barbican concert before the summer pause is part of the LSO Futures programme with Francois- Xavier Roth making his first London trip in over a year to conduct. The concert includes the UK premiere of Francisco Coll's Violin Concerto premiere with guest soloist Patricia Kopatchinskaja. The other contemporary works completing the programmeare Charlie Piper's Flēotan, Betsy Jolas's Well Met Suite, and Ayanna Witter-Johnson's Faitrade?
As part of the Live from the Barbican series of concerts, Sir Simon Rattle conducts Mahler's Das Lied von der Erde featuring mezzo-soprano Magdalena Koženà and tenor Andrew Staples at 8pm on Sunday 9 May.