The conductor is to take up the directorship of the Bavarian Radio Symphony Orchestra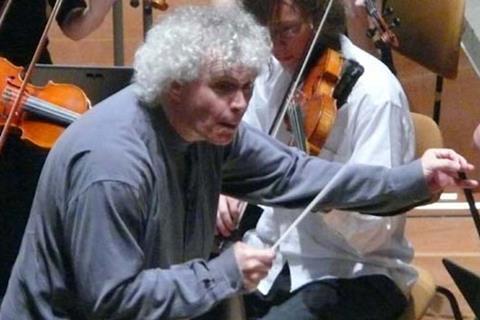 Simon Rattle is to leave the London Symphony Orchestra, of which he is chief conductor, to take up a new role in Munich.
Despite expectations that the 65-year-old British conductor would remain with the LSO, Rattle is to take up the directorship of the Bavarian Radio Symphony Orchestra in 2023. He will succeed the orchestra's previous chief conductor Mariss Jansons, who died in December 2019 from a long-standing heart condition.
Rattle, who currently lives in Berlin with his third wife, Czech mezzo-soprano Magdalena Kozena, and their three children, said in a statement that 'my reasons for accepting the new role…are entirely personal, enabling me to better manage the balance of my work and be close enough to home to be there for my children in a meaningful way.'
When Rattle accepted the post with the LSO in 2015, it was reported that the City of London Corporation's offer to build a new Centre for Music was a major factor in his decision. According to The Times, one of the main reasons for Sir Simon's departure was the fading hope of that hall being built.
Read: Simon Rattle and London Symphony Orchestra invite children to play Mozart from lockdown
Read: Simon Rattle announced as London Symphony Orchestra music director
However, the conductor has agreed to extend his contract with the LSO for an extra year – until 2023, when he will take up a lifetime role as Conductor Emeritus. This is the first such appointment to this role since André Previn. 'I love the London Symphony Orchestra. I remain committed to the LSO, and we have plans for major projects in the coming years,' said Rattle. 'I am thrilled that we will be making music together far into the future.'
Meanwhile, he is due to give three concerts with the BRSO in March 2021. News of Sir Simon's appointment initially appeared in the German and Austrian press over the weekend, and was confirmed by the London Symphony Orchestra on Monday morning.
According to the BRSO, the musician had signed an initial five-year contract. The orchestra's director, Ulrich Wilhelm, said the company was 'delighted' to welcome the conductor aboard, and praised his 'passion, artistic versatility and winning charisma'.