New resource offers audiences live-streamed performances and educational talks, plus concerts for children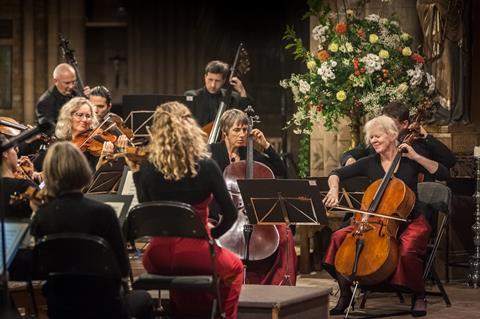 In the wake of venue closures and concert cancellations across the UK due to the Covid-19 pandemic, London Mozart Players (LMP), the UKs longest established chamber orchestra, today launches 'At Home with London Mozart Players', a dedicated web page offering daily live and pre-recorded broadcasts and video blogs from LMP soloists, musicians and associate artists.
The new resource has been launched both as a means of retaining engagement with its audience, and also - by giving viewers the option to donate money so that musicians are partially compensated for their work - to assist its freelance musicians and artists who face an uncertain future financially. The LMP has charitable status and no core funding, and freelance musicians have not been offered the guaranteed income the government has promised employees.
Simon Blendis, LMP concertmaster, said: 'For us, one of the most important things is to not lose touch with our wonderful audience. So we decided to launch a new strand on our website, LMP At Home. Music does have an ability to transport us away from our troubles, helping us to forget, even if it's just for a few moments. Over the coming weeks and possibly months we are going to provide a daily dose from LMP, including live music streams, video blogs, content for children and some personal reflections on particular pieces of music.'
Read: Simon Blendis appointed joint leader of London Mozart Players
Read: New York Philharmonic expands online digital archives with sheet music
Read: ISM urges UK government to provide emergency funds to musicians
Launching the new resource, Blendis has posted a video blog for 'Mozart Mondays', examining the first movement of Mozart's Symphony no.40 in G minor. 'What's most important is to get in contact with great music: something that will transport us,' says Blendis. 'Although this isn't a particularly jolly, happy piece, it is so emotionally honest that I think it can uplift us in a more profound way.'
On subsequent days of the week, LMP musicians and guest artists will explore masterpieces of chamber repertoire in 'Chamber Tuesdays', beginning tomorrow with LMP musician Bryony Gibson-Cornish introducing The Marmen Quartet and a performance of Schubert's symphonic Quartet in G major. The 'Saturday Sessions' features live broadcasts by individual LMP musicians, beginning at 7pm on 28 March with classical guitarist Craig Ogden (via the LMP's Facebook page), who is scheduled to perform with the LMP in two concerts this spring. Family-friendly Friday concerts will include a narrated performance of 'Ferdinand the Bull' with principal cellist Sebastian Comberti and LMP leader Ruth Rogers.
Julia Desbruslais, executive director of LMP commented: 'In this time of great uncertainty, it has never been more important to keep people connected through music. Whilst this is an extremely difficult and worrying time for all, it is vitally important that orchestras keep going; connecting communities, inspiring audiences, giving a platform to musicians and finding ways to support them through a period of financial instability.
'Moving our work onto a virtual platform allows us to keep making classical music accessible for all members of the community in this time of social distancing. We hope this will offer people an oasis of calm and a breath of fresh air in these surreal times. So, sit back, relax, enjoy the soothing sounds and let LMP bring the concert hall into your living room.'
The new web page will work to combat some of the losses and help support its musicians through this difficult time. Viewers will be given the option to donate money towards the campaign so that the musicians involved are partially compensated for the loss of income they will inevitably face.
The full schedule of upcoming live-broadcasts and performances can be found via LMP's website www.londonmozartplayers.com/athome. Donations can be made at londonmozartplayers.com/athome/#donate.