A prize package worth €50,000 will go towards the quartet's artistic development, as well as a composition commission to be premiered at the Wiener Konzerthaus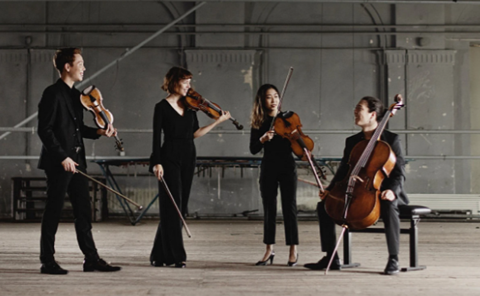 Read more news articles here
The Leonkoro Quartet has won the Merito String Quartet Award for 2022. The ensemble will enjoy a generous cash grant, as well as professional development for four years, plus the commissioning of a new composition, the premiere of which will take place at the Wiener Konzerthaus.
'What an honour to have been awarded the Merito String Quartet Award, and even more to have been chosen by such a jury consisting of (former) members of the Alban Berg Quartett, Arditti Quartet, Artemis Quartett, Quatuor Ébène, and Hagen Quartett!' the quartet posted on social media.
The award is the latest in a series of accolades that the ensemble have enjoyed this year alone. Based in Berlin, the Leonkoro Quartet, comprising violinists Jonathan Schwarz and Amelie Wallner, violist Mayu Konoe and cellist Lukas Schwarz, were victorious at the 2022 Wigmore Hall International String Quartet Competition and the Bordeaux International String Quartet Competition. It also signed to Arts Management Group for North American representation, and were selected as BBC Radio 3 Next Generation Artists for the 2022-24 cohort.
The prize will be awarded on 18 November at the Wiener Konzerthaus. It is administered by the Merito String Instrument Trust, counting the Wiener Konzerthaus and Impresariat Simmenauer as its partners. Its inaugural prize was awarded in 2018 to the Castalian Quartet