Never out of The Strad headlines for long, the Berlin-based Leonkoro Quartet has added to its recent success stories with a competition victory and a management deal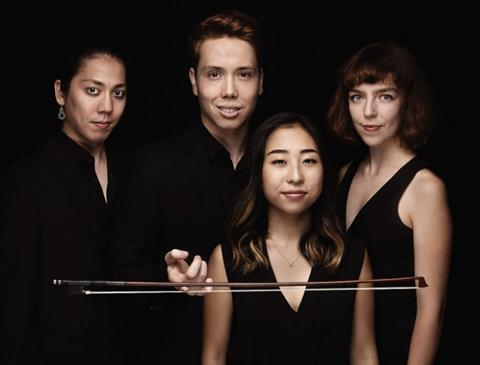 The Leonkoro Quartet has much to celebrate recently, after winning the Bordeaux International String Quartet and subsequently signing to Arts Management Group.
The quartet was awarded grand first prize of €20,000 at the Bordeaux International String Quartet earlier this month, as well as the audience prize and the young public prize. In addition to the prize money, the four musicians of the quartet, comprising violinists Jonathan Schwarz and Amelie Wallner, violist Mayu Konoe and cellist Lukas Schwarz, will receive four bows by the French bow maker Edwin Clément worth €35,000. They will also take part in a concert tour organised over two years, through Japan, Italy, Germany, Austria and Switzerland.
Soon after its victory in Bordeaux, the Leonkoro Quartet announced its signing to Arts Management Group for North American representation.
'We are so humbled and honoured to join their roster and we are very much looking forward to our cooperation together' the quartet commented on social media.
The news follows the quartet's other recent professional success. Last week, the Leonkoro Quartet was announced as BBC Radio 3 New Generation Artists for 2022 to 2024, where they will enjoy professional development through performances and radio broadcasts throughout the UK and Europe. In April this year, the quartet won first prize at the Wigmore Hall International String Quartet Competition, which, in addition to prize money, entitles the quartet to numerous performances and professional development opportunities in the UK and abroad.
The Leonkoro Quartet has been coached by members of the Artemis Quartet at the Berlin University of the Arts. The four musicians received further artistic advice from Alfred Brendel, Reinhard Göbel, Rainer Schmidt (Hagen Quartet), Oliver Wille (Kuss Quartet) and Luc-Marie Aguera (Quatuor Ysaye).
In addition to studying chamber music with Heime Müller at the Musikhochschule Lübeck, the quartet has been studying with Günter Pichler (Primarius Alban Berg Quartet) at the Chamber Music Institute of the Escuela Superior de Música Reina Sofía Madrid since 2020.