The award-winning ensemble has signed for representation in Spain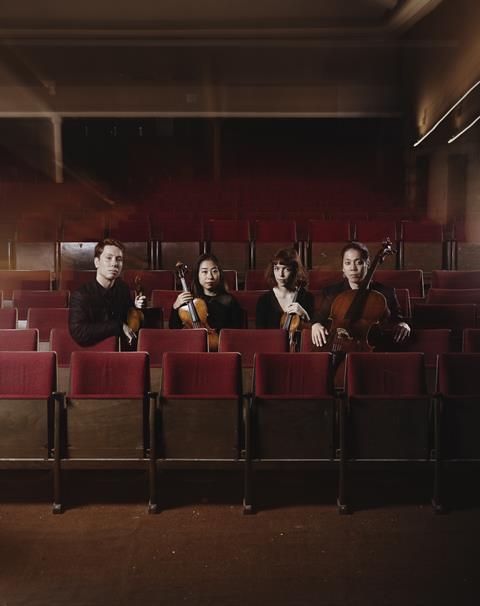 Read more news articles here
The Leonkoro Quartet has announced it has signed with Ibermúsica Artists, a concert promoter and artist agency based in Spain.
The quartet, comprising violinists Jonathan Schwarz and Amelie Wallner, violist Mayu Konoe and cellist Lukas Schwarz, is no stranger to audiences in Spain, having studied with Günter Pichler of the Alban Berg Quartet at the Chamber Music Institute of the Escuela Superior de Música Reina Sofía Madrid since 2020 with the support of Santander Consumer Bank AG.
2022 has been a year of success for the Leonkoro Quartet. Most recently, the ensemble won the Merito String Quartet award, a prize package worth $50,000 containing career development and a composition commission. This year, the quartet has won the Jürgen Ponto Foundation Music Prize, the Wigmore Hall International String Quartet Competition, including numerous special prizes, and the Bordeaux String Quartet Competition. The group has also been appointed BBC Radio 3 New Generation Artists, as part of the 2022-24 cohort.
The 2022/2023 season sees the Leonkoro Quartet performing at venues including the Konzerthaus Berlin, CAPE Ettelbruck, Alte Oper Frankfurt, the Vibre! Festival in Bordeaux, the String Quartet Festival in Heidelberg and the Dresden Music Festival. In addition, the ensemble will begin its three-year residency in Leeds and will play two concerts at Esterházy Castle.
Prominent string artists on the roster of Ibermúsica Artists include violinists Midori, Esther Yoo, Renaud Capuçon, Akiko Suwanai, Leila Josefowicz, Nemanja Radulović and Sergei Dogadin, violist Antoine Tamestit and cellists Narek Hakhnazaryan, Kian Soltani, Truls Mørk and István Várdai.