Short-term loan of quartet of instruments once owned by Paganini will include a complete Beethoven cycle in Tokyo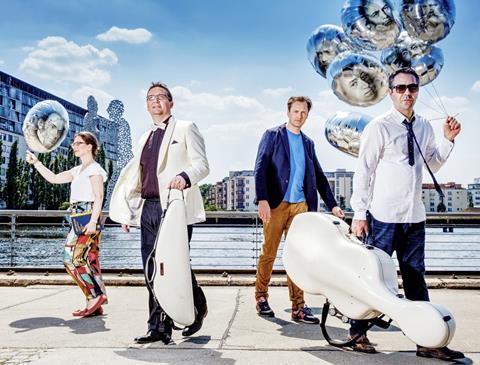 The Kuss Quartet, based in Germany, is now known to be the next recipient on short-term loan of the 'Paganini Quartet' - a group of instruments by Antonio Stradivari once owned by Niccolò Paganini.
The great violinist was a collector of fine instruments and assembled the set over time. The instruments, which were not made as a matched quartet by Stradivari, are the 1727 'Comte Cozio di Salabue' and 1680 'Desaint' violins; one of just 13 surviving violas by Stradivari, the 'Mendelssohn' of 1731, the tone of which so inspired Paganini that he commissioned Berlioz to write Harold in Italy for it; and the 1736 'Ladenburg' cello, thought to be the maker's last.
The quartet was separated after Paganini's death and only reunited in the 1950s by dealer Emil Herrmann in New York. It was played by the Paganini and Cleveland Quartets and then became the first acquisition of the Nippon Music Foundation in 1994.
Subsequently it went to the Tokyo Quartet until it disbanded in 2013. Since then the Hagen Quartet played the instruments for a short period, and the Quartetto di Cremona borrowed them for a special project until late last year.
The Kuss Quartet is also receiving the instruments on short-term loan for a special project: a complete Beethoven quartet cycle performed across five concerts at Suntory Hall in Tokyo this June, which will be recorded for release on the Rubicon Classics label.
The quartet has taken possession of the instruments already and will also be performing on them at a Wigmore Hall concert in London on 27 May.
The Nippon Music Foundation owns a total of 21 instruments made by Antonio Stradivari and Guarneri 'del Gesù' and loans them 'to young promising musicians and internationally active musicians regardless of their nationalities'.
Current recipients include Veronika Eberle, Benjamin Beilman, Ray Chen, Arabella Steinbacher and Pablo Ferrández. The foundation also lends the 1708 'Huggins' Stradivari to the winner of the violin edition of the Queen Elisabeth Competition (currently Ji Young Lim).
The foundation made international headlines in 2011 when it sold the 'Lady Blunt' Stradivari in aid of victims of the Japanese earthquake and tsunami.