The American violinist wins €20,000, a CD production package and performance invitations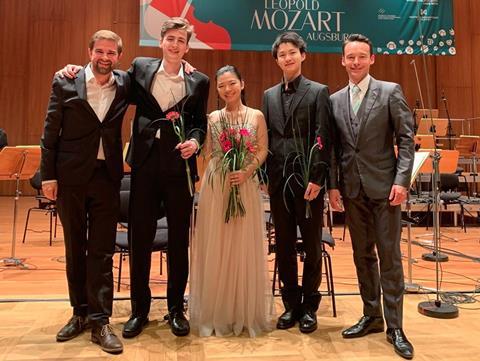 The 10th International Violin Competition Leopold Mozart has announced its winners. They are:
First Prize – Mozart Prize: Joshua Brown (US)
Second Prize: Karisa Chiu (US)
Third Prize: Kaoru Oe (Japan)
Joshua Brown also won invitations to a Kronberg Academy masterclass and recital at the International Chamber Music Festival Kempten 2019
The Critic's Prize (decided by Remy Franck, Jens F. Laurson and Anna Picard) went to semi-finalist Simon Wiener (Switzerland).
The special prize for the performance of the commissioned work SOLEOS by Elzbieta Sikora had originally been awarded to semi-finalist Julen Zelaia but, following his decision to withdraw from the competition, the prize was re-awarded to Kaoru Oe.
Joshua Brown previous competition distinctions include being awarded both Second Place and the Audience Award in the 2015 Cooper International Violin Competition in Ohio, and multiple awards at the 2015 IX International Tchaikovsky Competition for Young Musicians held in Novosibirsk, Russia. He was also a top prize winner in the 2016 Stradivarius International Violin Competition in Salt Lake City, Utah and was awarded the Grand Prize for Violin in the 2016 ENKOR International Music Competition.
He has played a 1679 Pietro Guarneri on loan through the Stradivari Society of Chicago since 2016.
The triennial International Violin Competition Leopold Mozart was founded in 1987 and is named after Wolfgang Amadeus Mozart's father, Leopold, who was born in Augsburg and remains an important figure in violin pedagogy chiefly through his Treatise on the Fundamental Principles of Violin Playing.
The 2019 jury comprised Benjamin Schmid (Chairman), Friedemann Eichhorn, Liza Ferschtman, Sabine Frank, John Gilhooly, Ulf Hoelscher, Danjulo Ishizaka, Nils Mönkemeyer, Christian Poltéra, Marco Rizzi, Erik Schumann, Remy Franck, Jens F. Laurson and Anna Picard.
Past winners include Benjamin Schmid, Lena Neudauer and Isabelle Faust, who was awarded 1st prize in the competition's very first year.