Violinist Soovin Kim and pianist Gloria Chien have won the prestigious award for their nationwide chamber music outreach work throughout the pandemic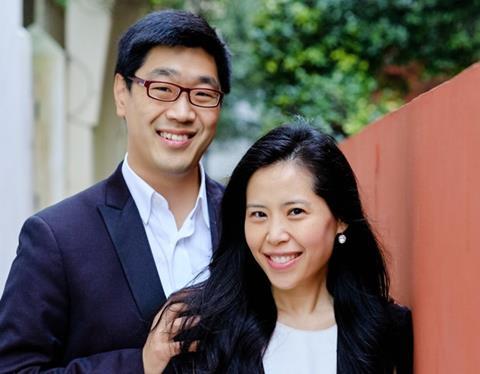 The Chamber Music Society of Lincoln Center have announced violinist Soovin Kim and pianist Gloria Chien as recipients of the 2021 CMS Award for Extraordinary Service to Chamber Music. They will be presented the award at the Alice Tully Hall on 9 November.
The award to given in recognition of their inspirational musical outreach work across the US throughout the pandemic. Based in Boston, together they are artistic directors of Lake Champlain Chamber Music Festival in Burlington, Vermont and Chamber Music Northwest in Portland, Oregon. Chien is also artistic director of String Theory at the Hunter chamber music series in Chattanooga, Tennessee.
David Finckel and Wu Han, co-artistic directors of CMS, spoke in recognition of the duo's drive, 'It was not long after the shutdown that we became aware of this couple's aggressive, unstoppable and truly inspired efforts to bring great music to people in times of intense need'
Throughout the pandemic, they brought chamber music to the people of Burlington, Portland and Chattanooga by producing digital concerts, featuring both live performances and archival recordings; creating digital lecture series and educational programming; partnering with local public radio and television to extend the reach of programming; and offering many of these programmess free to the public in an effort to help sustain them through the pandemic lockdown. As restrictions began easing in the summer of 2021, the duo began introducing live performances with in-person concerts, open rehearsals and master classes, family concerts, free performances and school visits.
Kim and Chien said, 'As artistic leaders, it is our responsibility to serve our communities, especially during this time of uncertainty. Music elevates and connects, two things we urgently needed during the pandemic. We want to share this award with our organisations in Portland, Burlington and Chattanooga. We are thankful to Wu Han, David Finckel, and the Chamber Music Society of Lincoln Center for setting an example by providing invaluable support and guidance to their musicians and an abundance of rich musical offerings to their audiences!'
Read: Violinist Nicola Benedetti wins 2021 RPS Instrumentalist Award
Read: Violinist Hilary Hahn wins Herbert von Karajan award
Read: Chad Hoopes: 'I want to pass along the knowledge and the influences that I have had'