The classical/hip-hop fusion duo will receive the award at on 19 November for excellence in arts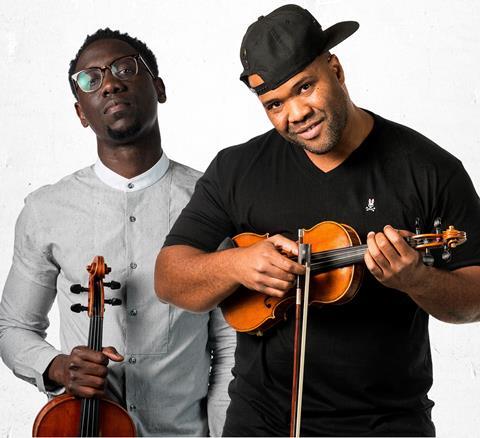 Violin-viola hip-hop duo Black Violin will be recognised for excellence in arts at the 28th Annual Caribbean American Heritage (CARAH) Awards, held on 19 November.
The duo, comprising of violinist Kevin Sylvester (stage name Kev Marcus) and violist Wilner Baptiste (Wil B) have been playing together for 17 years, merging classical string playing with hip-hop beats. They met at the Dillard High School of Performing Arts in Fort Lauderdale, FL, where they were both students. Both went on to study music on full scholarships, Sylvester at Florida International University, and Baptiste at Florida State University.
They began performing together covering hip-hop songs on string instruments, eventually going on to win the 'Legend' title after performing on Showtime at the Apollo in 2005. They have performed extensively with artists such as Alicia Keys, Wu-Tang Clan and Mike Shinoda, as well as working in production with artists such as Kanye West and Aerosmith. Their 2019 album Take the Stairs earned a Grammy Award nomination for Best Contemporary Instrumental Album.
In 2020 the duo established the Black Violin Foundation, a non-profit organisation dedicated to empowering youth by providing access to quality music programmes in the community. Together with their wives as co-directors, they reach over 100,000 students per year through free performances and collaboration with youth orchestras, community centres, and low-income schools. Of his viola playing, Baptiste has stated, 'I stuck with the viola and it opened a lot of doors for me', while Sylvester has said, 'I got into a little trouble…and my mom said she needed me to get into something, so she took me to Saturday morning violin class'
Run by the Institute of Caribbean Studies, the Caribbean American Heritage Awards were established in 1994 to honour those who have made outstanding contributions to American society, promoted Caribbean culture and interests in the United States and other countries. Honours are awarded in a range of disciplines, with previous award-winners including John Russworm, Al Roker, Malcolm X and Diane Abbott.
The awards gala will be held over 19 and 20 November online, with free ticket registration available here
Listen: The Strad Podcast Episode #16: Ayanna Witter-Johnson on playing and singing
Read: Black America: A race for change
Read: 'We have to fight a history of stereotyping' - Black representation in classical music