The violinist is among a host of award winners who have inspired audiences with music-making throughout the pandemic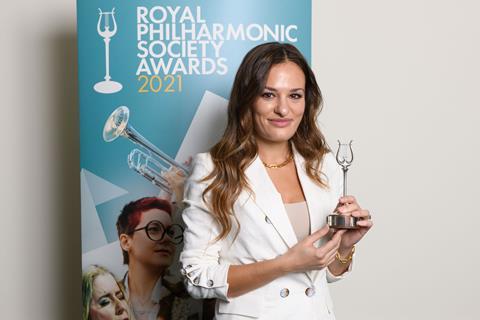 The annual Royal Philharmonic Society (RPS) Awards were held on 1 November 2021 at Wigmore Hall, London, celebrating the achievements of musicians who have inspired the nation throughout the pandemic. Violinist Nicola Benedetti won the Instrumentalist Award for her work as an artist, educator and advocate through her Virtual Benedetti Sessions with the Benedetti Foundation.
The RPS stated, 'She has lit up numerous exhilarating performances nationwide. She has used her position and influence so positively, speaking out on behalf of the entire profession. She has personally invested immense energy, enthusiasm and care in creating a feast of inspiring online content, for thousands of young musicians worldwide.'
Kadiatu Kanneh-Mason, mother of the musical Kanneh-Mason household, won the Storytelling Award, for her book 'House of Music' about raising a musical family. The Ensemble Award went to the period-ensemble the Dunedin Consort for their live and digital concerts for children, performances of Errollyn Wallen's Dido's Ghost, as well as managing the unusual predicament of 'commandeering a fishing boat to get safely home from performing in locked-down France.' The Young Artist Award was given to soprano-clarinet-harp-double bass collective The Hermes Experiment for their new commissions, live and digital workshops for children and their debut disc release.
Prizes were awarded to amateur groups alongside professional artists and ensembles with the introduction of the inaugural Inspiration Award. Voted by the public, this year the award was given to Hilary Campbell and the Bristol Choral Society.
RPS Chairman and CEO of Wigmore Hall John Gilhooly said, 'For so many of us, music has been a lifeline through the last eighteen months. It's an honour for the Royal Philharmonic Society to salute the brilliance and resilience of musicians nationally through the pandemic, giving the best of themselves for others, at times of immense personal challenge. This year's RPS Awards winners are representative of countless music-makers across the UK whom we should all treasure: they have collectively kept our spirits high and will continue to be play an invaluable, central role in the nation's recovery.'
BBC Radio 3 will broadcast a special RPS programme on 8 November at 7.30pm featuring music from the winners. The full ceremony will be free to watch from the RPS website from 9 November
Watch: Nicola Benedetti talks to Sheku Kanneh-Mason