The cellist played with conductors including Lorin Maazel and Christoph Eschenbach over his 20-odd year career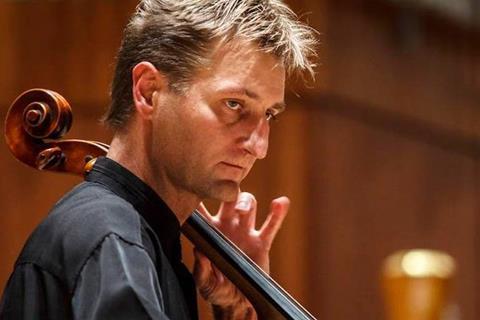 The Hungarian cellist Tamás Mérei, who performed with conductors including Lorin Maazel and Christoph Eschenbach over his 20-odd year solo career, has died after a long illness. He was 47.
Born in 1973, Merei grew up in Szombathely, Hungary, receiving cello lessons from the age of five, initially at the music school and conservatory in his home town, and subsequently at the Franz Liszt Academy in Budapest, under the tutelage of Csaba Onczay, Sándor Devich and Ferenc Rados.
On receiving his artist's diploma in 1996, he continued his studies at the invitation of János Starker in the USA at Indiana University, as well as at Yale University as a Fulbright scholar, and at the Juilliard School – where he studied musical management as well - with Aldo Parisot.
At this time he also took lessons with Itzhak Perlman, Franco Gulli, the Tokyo String Quartett, Dorothy Delay, David Geringas, Bernhard Greenhouse and others.
Whilst a student he received several music awards: in 1991 he won first prize at the National Cello Competition in Hungary; in 1994 he was the youngest ever participant and winner of the Popper Cello Competition. In 1994 and 1995 he was awarded the title of 'Solo Cellist' at the music festivals 'Classical Winter in Jerusalem' in Israel, and the 'Pacific Music Festival' in Japan. In 1997 Tamás Mérei – as the first ever Hungarian participant – was awarded the Grand Prix at the 'Piatigorsky-Cellofestival' in Los Angeles. In 1998, he won first prize plus special award for the best interpretation of the Sonata for unaccompanied cello by Kodály at the Hungarian Radio Cello Competition. He was also awarded the prestigious Artisjus-Prize for his commitment to contemporary Hungarian music.
Read: Life Lessons: Aldo Parisot
Read: Legendary cellist and pedagogue János Starker dies at the age of 88
He held a teaching post at the Franz-Liszt-Conservatory in Budapest from 2000 to 2006, and was the solo cellist of the Stadtheater Klagenfurts KSO Orchestra. In addition, he served as the intendant of the Savaria Symphony Orchestra (2009-2015), as president of the Foundation of the Savaria History Carneval (2010-2014) and as general director Iseum Open Air Festival (2011-2015).

In 2014, he received 'the Knight's Cross' from the State of Hungary.
Stoical to the end, he covered his Facebook wall with 'daily humour', 'daily good news of the day' and 'daily cute' posts, sharing multiple photos of hedgehogs and ducklings. His last 'good news of the day' post dates from 30 September.