The inlaid instrument was a highlight of Christie's 'Exceptional Sale' on 7 July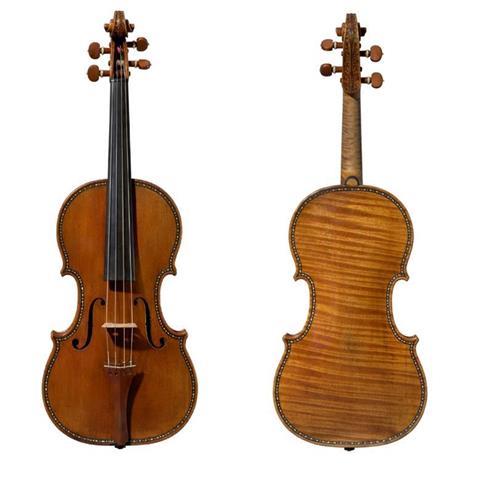 The 'Hellier' violin, made by Antonio Stradivari in c.1679, failed to find a buyer at Christie's auction house in London on 7 July. It was expected to sell for between £6 million and £9 million, with a starting price of £5.5 million; however, no one offered a bid and the violin was passed at the starting price.
'The beauty and significance of the "Hellier" Stradivari remains unquestioned,' said Amjad Rauf, head of the Exceptional Sale and Christie's international head of masterpiece and private sales. 'Having inspired huge international excitement, admiration and interest from announcement, we look forward to seeing its next chapter unfold.'
Considered to be one of Stradivari's finest inlaid violins, the 'Hellier' is among only a dozen of his instruments to feature inlaid decoration. Ornately florid silhouettes of flowers and vines are etched into the wood of the ribs and pegbox, filled in with an ebony mastic. Between the two rows of purfling are a procession of ivory circles alternating with delicately engraved ivory diamonds. The designs were first drawn on paper before being transposed to the wood, and Stradivari's original drawings for the inlay are still kept at Cremona's Museo del Violino.
Stradivari kept the 'Hellier' at his workshop for 55 years before selling it in 1734 to Sir Samuel Hellier of Wombourne, England, for £40. The violin remained in Hellier's family until about 1880, when it was sold by Colonel Shaw Hellier. Subsequent owners have included newspaper tycoon Henry E. Morris, American collector Henry Hottinger, London doctor Charles Oldham and Tom Roberts, an American collector who loaned the violin to the Smithsonian Institution.
Despite the 'Hellier' not selling, Christie's Exceptional Sale realised a total of £19,382,020 Among the top lots at the sale were an Egyptian limestone group statue of Mehernefer and his son, which achieved £6,014,500; and a pair of Napoleonic silver-mounted rifled presentation flintlock pistols of c.1809, which realised £978,000.