Violinist has withdrawn from March dates in Monaco, Basel, Luxembourg and Dresden due to injury first announced at the end of January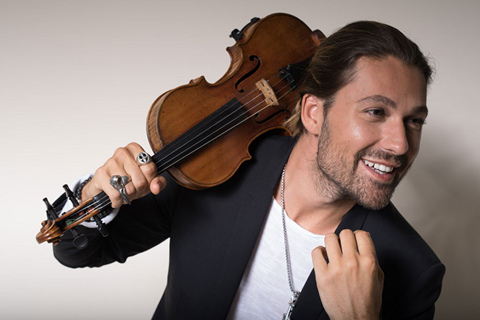 An announcement on the website of violinist David Garrett has him cancelling another tranche of concerts due to a herniated disc. He first revealed he was suffering from the condition at the end of January while cancelling a set of five concerts, and subsequently had to withraw from another five.
The latest set adds another four, with recitals cancelled or taken on by other violinists in Monaco, Basel, Luxembourg and Dresden.
'Dear friends, I'm so incredibly sorry that I can't play any concerts right now,' the Garrett writes on his website.
'Together with my team, I'll do everything to guarantee a speedy recovery – so I hopefully can visit and see you guys on tour soon!'
'David deeply regrets the cancellations, but is pleased that some of these concerts will be performed by his colleagues,' his management said.
The 4 March concert in Monaco with the Orchestre Philharmonique de Monte Carlo will now feature Renaud Capuçon playing Mozart's third violin concerto; Charlie Siem will take over the 7 March recital in Basel; and Nigel Kennedy will perform his 'Bach meets Kennedy meets Gershwin' programme instead of Garrett's scheduled recital in Dresden on 11 March. The 10 March Luxembourg concert has been cancelled.
Garrett's next scheduled appearance is on 22 March in Mannheim performing the Tchaikovsky concerto with the Orchestre National de Belgique.