Donations will go towards the unexpected costs encountered by London-based cellist Yurie Lee and her family following the incident in December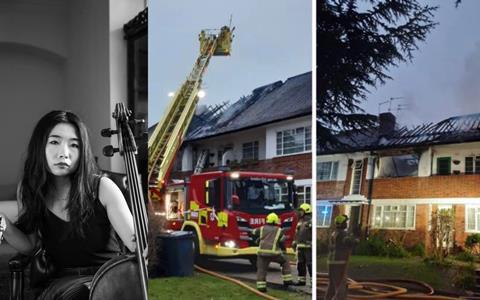 On 16 December 2021, Yurie Lee fled her family home, carrying two cellos and a bag, as her neighbour's house went up in flames.
The London-based cellist and her family have been left homeless following the fire incident, as their home was left uninhabitable following the fire. Without a base over the festive season and for the foreseeable future, Lee has created a fundraising page to sustain her family's living costs while the situation is slowly resolved.
She writes, 'I never in my life did I think I would end up homeless, especially in a pandemic and in the run up to the festive season. I am so grateful that my family home did not burn down but it suffered enough damage to become uninhabitable. Since then, we have been in and out of hotels, living out of suitcases. We are physically, mentally and emotionally drained. Some days are worse than others. Just when we thought we would be able to move into a longer term accommodation in the new year, things fell through and yet again we will be living out of our suitcases for at least a month'
Illustrating the family's unprecedented costs of living, she continues, 'In these last few weeks we have had to spend an incredible amount of money on takeout food as we haven't had any catering facilities, many laundry trips (all of our clothes and belongings smell of smoke), storage (we've had to move most of our stuff out), transportation and many more extra expenses that have come out from the result of this awful incident' Lee has also had to take time off work, for which she has not been compensated.
Lee aims to raise £5000. 'We just want to get back to a semi-normal life and have a permanent roof over our heads'
The link to donate can be found here