A four-day livestreamed Bach marathon in Leipzig will include a singalong B minor mass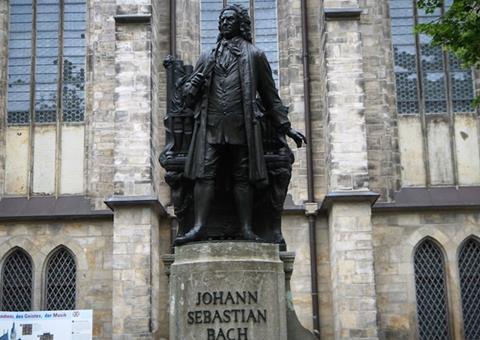 Over 150 Leipzig freelance artists and international guests are to present an interactive Bach programme over four days, that will be broadcast all over the world via a livestream from Leipzig's St. Thomas Church and St. Nicholas Church.
Starting at 2.30pm (CEST) on 13 June, with a performance from the Thomas Choir under Thomaskantor Gotthold Schwarzthis, this live Bach marathon - specially designed for streaming - will consist of concerts from international Bach choirs, as well as interviews, presentations and two church services. It continues on 14, 20 and 21 June, from 4pm each day.
Highlights from the rest of the programme include a performance of the St John Passion, with integrated videos from over 200 singers from all over the world. Every day begins with a warm-up with well-known Leipzig vocal ensembles and a Leipzig organist The marathon ends, on 21 June at 8pm, with a 'singalong' version of the B minor Mass, arranged for only 17 musicians by the director of the Gewandhaus Choir, Gregor Meyer, to comply with social distancing regulations. Prof. Dr. Michael Maul, director of the Bach Festival in Leipzig, urges Bach choirs around the world to sing along. 'Whoever feels called to do so, please play this B minor Mass at home,' he said, adding that this could turn the most slimmed-down performance that probably ever took place into the largest.
Read: BBC Proms announces alternative plans for summer 2020
Read: 5 festivals that hope to go ahead this summer (at least in part)
Read: Wigmore Hall Live Lunchtime Concerts broadcast across Europe
Two services with musical accompaniment and motets performed on Saturday will even take place with a live audience, in compliance with social distancing rules. All other events are livestreamed.
The aim is to provide financial support for the freelance Leipzig Bach interpreters, after the Bach Festival Leipzig 2020 was cancelled due to the COVID 19 pandemic. Donations will be used to pay artists' fees.
Read: A Celebration of Aldeburgh Festivals runs from 12 June
Read: Schleswig-Holstein Festival announces 100-concert programme
Preparations are underway for next year's Leipzig Bach Festival, under the theme of 'Redemption.' Maul says: 'This had nothing to do with the coronavirus situation,' says Maul. In fact the organizers have plans for a new large cantata series about Jesus's life, with the programme revolving around the idea of the Redeemer. 'I smiled in the spring when I realized that "redemption" in the face of a cancelled Bach festival will now have a completely different meaning, namely our redemption from the coronavirus crisis.'
The Bach Marathon will be on air on each of the four days on the Bach Archive Facebook channel from 4pm to 10pm CEST.