The US violinist won first prize after the final round on Saturday 4 September in Sion, Switzerland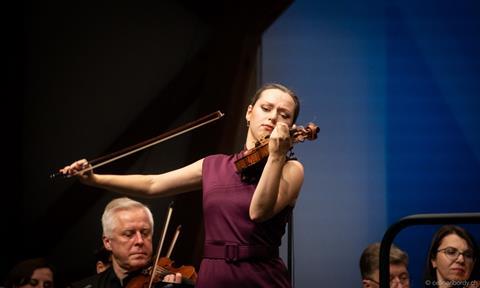 US violinist Maria Ioudenitch has won first prize at the Tibor Varga International Violin Competition, playing the Brahms Violin Concerto. Held in Sion, Switzerland, the competition awarded Ioudenitch CHF 20,000 for first prize, as well as an additional CHF 500 each for the Audience Prize and Youth Jury Prize. This follows her recent victories at the 2021 Ysaÿe International Violin Competition, where she won first prize for the senior age catagory and the Ysaÿe Grand Prize.
Born in Russia, Ioudenitch moved to Kansas City at the age of three and began her musical studies shortly after. She studied at the International Center for Music at Park University, in Kansas City with Ben Sayevich, the Curtis Institute of Music with Pamela Frank and Shmuel Ashkenasi and the New England Conservatory with Miriam Fried.
The prizes awarded are as follows:
Second prize: Tassilo Probst, 19 (Germany)
Third prize: Lorenz Karls, 20 (Sweden). Karls also won the Tibor Varga prize for best performance of the compeition's contemporary work Stilleven by French composer Michel Petrossian.
Fourth prizes: Ava Bahari, 24, (Sweden), Seira Horiuchi, 25, (Japan) and Arthur Traelnes 18, (Switzerland)
The deciding jury included Salvatore Accardo, Kolja Blacher, Friedemann Eichhorn, Koichiro Harada, Yuzoko Horigome, Michel Petrossian and Pavel Vernikov.
Read: Competitions, Awards and Appointments: September 2021
Read: Eva Rabchevska wins 1st prize at the 2021 Stuttgart International Violin Competition
Read: Violist Tabea Zimmermann on the pressure of competitions