Six violinists will appear in the two final rounds, in which they will lead a string quintet and perform a concerto with orchestra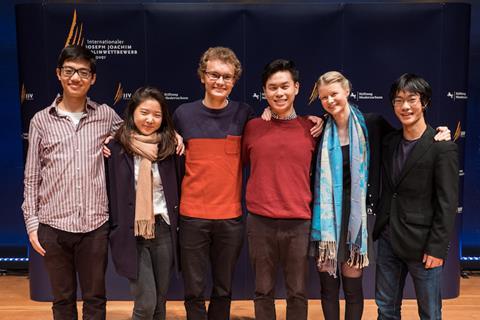 Following an hour-long recital, which included the premiere of Rebecca Saunders's 'Hauch' by Rebecca Saunders and an encore with personal introduction, six musicians have been chosen to perform in the finals of the 10th Joseph Joachim Violin Competition, which begin today.
The finalists (in order of appearance) are:
Rennosuke Fukuda (Japan)
Cosima Soulez Larivière (France)
Timothy Chooi (Canada)
Youjin Lee (South Korea)
Leonard Fu (Germany)
Dmytro Udovychenko (Ukraine)
The finals consist of a chamber music round, where participants will lead a string quintet, and a concerto performance with the NDR Radiophilharmonie conducted by Andrew Manze.
Prizes will be announced on the evening of 26 October and there will also be a Prize Winners' Gala Concert on Saturday 27 October.
There is a live stream of all the rounds available to view here.
The triennial event in Hanover, Germany, offers a €50,000 top prize plus Naxos album release, the loan of a G.B. Guadagnini violin and performance invitations. Previous winners include Frank Huang, Nemanja Radulovic and Antje Weithaas.
The jury consists of Salvatore Accardo, Andrej Bielow, Masafumi Hori, Kyung Sun Lee, Silvia Marcovici, Qian Zhou, Ulf Schneider, Vilmos Szabadi and Pavel Vernikov.